Today's Reminiscence of his father by Joe Farace
I don't have many memories of my father from when I was a young child. Not long after I was born he was drafted into the army to fight in WWII, even though he was working at that time at the Bethlehem Steel shipyards. He went off to war and joined Lt. Gen. George S. Patton Jr.'s Third U.S. Army. At the battle of the Bulge Patton turned his army to the north to counterattack the German flank. But the story of the Battle of the Bulge is really the story of American Soldiers, like my father, who was wounded during the fighting by a Nazi mortar round that took him out of the action, ultimately coming home to my Mom, sister and me.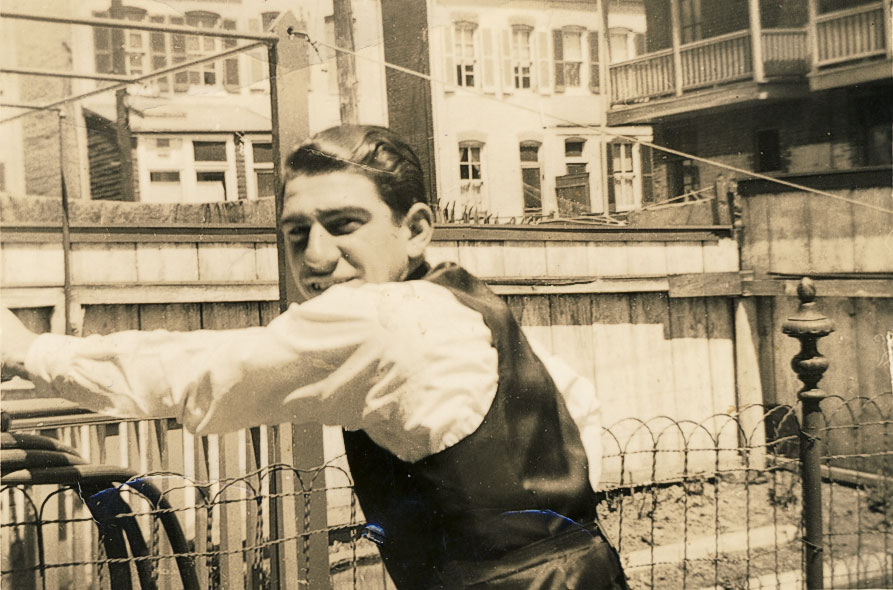 How this photo was made:This casual portrait of my young Dad was made in the backyard of his parent's home on Montford Avenue in Baltimore, Maryland sometime around 1940. I don't know if it was my Mom who made this shot but since he's smiling it could have been and I like to think it was.
After the war he went to work at Bethlehem Steel's Sparrows Point steel factory, at that time the largest tidewater steel mill in the world. He worked a very strange shift pattern that changed every three days. He would have two days of one shift, followed by two days on another, and he was coming and going from our Hoffman Street home at many different hours. It became, over time, a Cat's Cradle kind of situation with me, and if you're familiar with the Harry Chapin song, you know how it goes and ends.
But one memory sticks of my Dad out from when I was in high school. Long before anybody thought of "Take Your Kid to School Day" he took me to work with him; he was picking up his paycheck. I can't imaging OSHA or anybody allowing a 17-year old to walk around an open hearth furnace these days. You can read more about that day on my car blog, because part of this experience includes talk about a Jaguar automobile, which may explain my fascination with these cars and British cars in general.
But the part that I remember most about that day is when we were walking along a gangway at the top of the furnace that was the hottest place I had ever experienced and that includes visiting my sister Kate in Tampa during July. At one point, my Dad who was a man of few words put his right arm around my shoulder and with a gesture with his left hand moved it across the hellish scene in front of us that said, "some day all this will be yours" instead he looked me in the eyes and said, simply "Don't work here." And that, as far as I can tell, is the one and only time in the history of father-son relationships that a son actually took his father's advice. Thanks Dad, I am who I am today because of you.
---