Today's Post by Joe Farace
I've said it before but I'll say it again: I have shot infrared images all over this country and even in Mexico but by far the best place that I've found to make infrared images is Zion National Park. My friend Juan tells me that Columbia is the best country to make infrared images and I hope to join him there someday and find out. I'll have to add it to my bucket list.
Zion National Park is located near Springdale, Utah, about 700 miles southwest of Denver. Zion Canyon, which is a prominent feature of the 229-square-mile park, is 15 miles long and up to half a mile deep, cut through the reddish and tan-colored Navajo Sandstone by the North Fork of the Virgin River. The park's lowest elevation is 3,666 ft at Coalpits Wash and the highest elevation is 8,726 ft at Horse Ranch Mountain.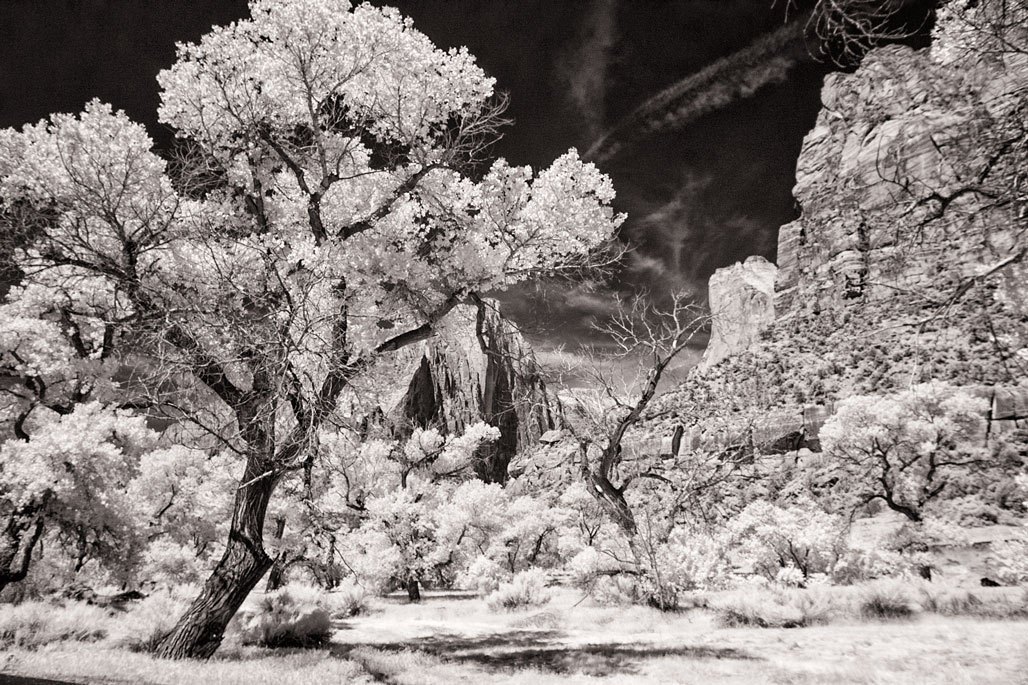 The park's unique geography and variety of life zones allow for unusual plant and animal diversity. Numerous plant species as well as 289 species of birds, 75 mammals (including 19 species of bat), and 32 reptiles inhabit the park's four life zones: desert, riparian, woodland, and coniferous forest.
How I made this shot: The above image was made using a Canon EOS 50D that had been converted to infrared capture by LifePixel. Lens was the discontinued Tamron SP AF 11-18mm F/4.5-5.6 Di-II LD Aspherical (at 15mm) that has been replaced by what I expect is a equally wonderful SP 10-24MM F/3.5-4.5 Di II lens. Exposure was 1/125 sec at f/9 and ISO 200, which points up the big advantage of shooting infrared with an infrared converted camera as opposed to using an on-camera filter, you can easily handhold the camera instead of have to place it on a tripod.
For my older readers: For those who are 62 years and older, the Senior Pass is a lifetime entrance pass for admittance to all US National Parks. At $10, the Senior Pass has been the bargain of the century until the US Congress passed Centennial Legislation P.L. 114-289 on December 16, 2016 increasing it to $80. You can purchase a $20 Annual Senior Pass, which is good for one full year from the date of purchase.
Update: Sometime in the future I would like to hold an infrared photography workshop in Zion National Park. A few years ago one of the big photography websites approached me asking about sponsoring such a workshop but with a change in their ownership the offer evaporated. If your organization is interested in sponsoring such a workshop, please click the Contact button and let's talk.
---
I've found that Life Pixel does a great job with IR conversions and they've done most of the conversions for my Canon DSLRs and all my Panasonic Lumix cameras. This is not a paid or sponsored endorsement, just my experience.
My book, The Complete Guide to Digital Infrared Photography is available from Amazon with used copies selling for $14.99 as I write this. My other book, Creative Digital Monochrome Effects, has a chapter on IR photography and is available from Amazon with used copies starting at $4.00.