Today's Post by Joe Farace
A personal note: I recently had surgery and my right arm will be in a cast for two weeks. After that I'll have a brace for several weeks, which I understand will let me make photographs and type, more or less. Check my Instagram feed (@joefarace) for updates on how I'm doing with posts from Mary.
You know how it is: You drive by something and say to yourself, "I've gotta make a photograph of that" but somehow you never get around to it. Once upon a time, my friend photographer Don Feltner gave me a round wooden coin that looked like a "wooden nickel" except it said "tuit." So since I had a round tuit, this photograph was going to be my round tuit shot but, of course you know there would be some twists and turns along the way.
A few years ago, when I was in Albuquerque with Mary, we drove past this clothing store with all these mannequins standing outside and she said, "you gotta take a picture of that." When we drove by the store later in the day, the store was closed and the mannequins had been taken inside. But I persevered, so the next time we were in the Nob Hill area, we made a detour and the mannequins were outside but it was a very busy day with lots of pedestrian and automobile traffic. So Mary dropped me off an drove around the block while I tried to shoot.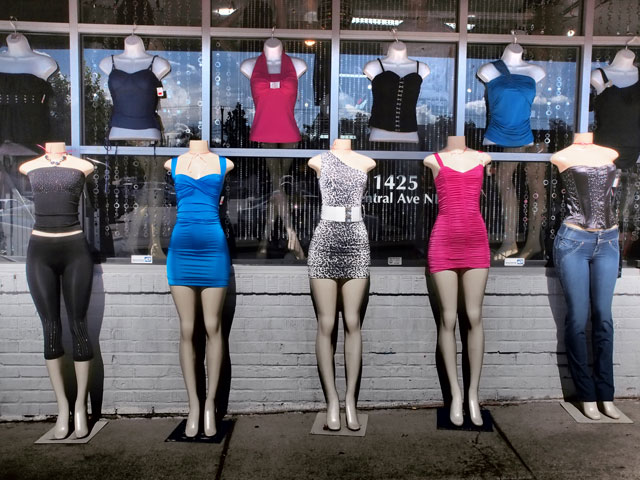 In the time it took here to drive around the block, I managed to make two shots, one in black and white for whoever knows what reason. The color image file is shown at right and was made with an Olympus E-5 Four-thirds (not Micro Four-third but with the same size sensor) and 17mm f/1.8 lens. Exposure was 1/640 sec at f/9 and ISO 320 and which seems a bit underexposed to me.

But it was only when we got back home to Colorado that I decided to re-imagine the image, by first leveling it a bit with Photoshop's Transform tool. As I look at it now, I could have done a better job of composing the original image. Next I corrected for underexpose using the technique explained here. Then I used Topaz Lab's Adjust plug-in to tweak to the finished image to achieve what you see above.
---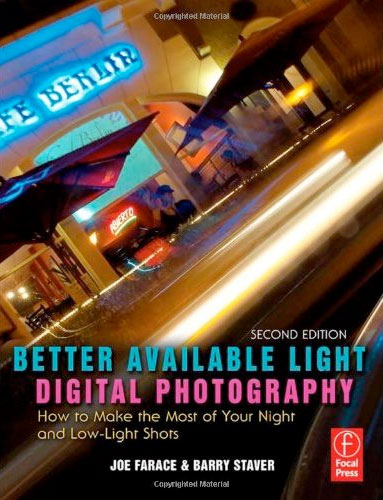 If you enjoyed today's blog post and would like to treat me to a cup of Earl Grey tea ($2.50) to cheer me up when I'm recuperating, please click here. And if you do, thanks so much.
Along with photographer Barry Staver, Joe is co-author of Better Available Light Digital Photography that's now out-of-print but new copies are available from Amazon for $21.88 but used copies start at the giveaway price $2.64, as I write this.