Today's Post by Joe Farace
The Rocky Mountain Columbine (Columbine Aquilegia caerulea) is the state flower of Colorado but is sometimes known as "granny bonnets." The flower was originally discovered in 1820 on Pike's Peak by mountain climber Edwin James.
There are 70 species of columbines found  in the world and about one-third of them are native to North America. Columbines bloom in pastel shades of violet, red, yellow, white and pale blue (as in the species name caerulea); commonly the flowers are bicolored with the sepals a different shade than the petals. Like most flowers, they are not typically photographed in black and white. So I decided, why not use infrared!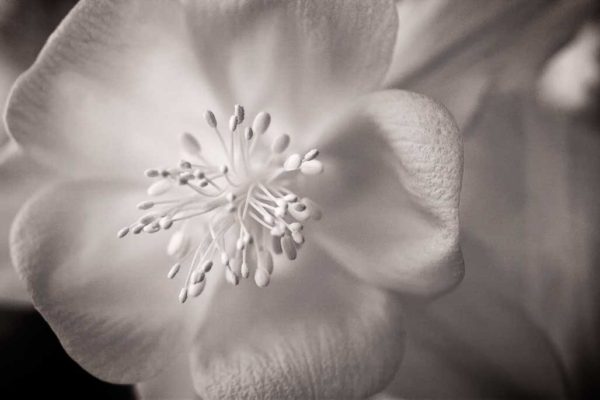 How I made this shot: I photographed this columbine in a friend's front yard using an Canon EOS 50D (that I no longer own) that had been converted to infrared-only photography by LifePixel using their Standard IR filter conversion. Lens used was an EF 50mm f/2.5 Compact Macro Lens lens with an exposure of 1/200 sec at f/5 and ISO 400.
If you've been thinking abut trying infrared photography and would prefer to use a converted camera because of the ability to shoot images handheld, consider having one of your old cameras that's just sitting around doing nothing converted by LifePixel or any of the many companies that offer this service. Or you can go on eBay or Craig's List and find a nice used (and cheap) SLR that uses the same lenses as the rest of your system. Using an older camera is not a drawback if you shoot in RAW.
For some reasons on why I shoot infrared and why you might want to give it a try, read my post Getting a Fresh Start with Infrared.
---
Life Pixel does a great job with IR conversions and have done most of my Canon DSLRs and all of my Panasonic Lumix G-series cameras. This is not a paid or sponsored endorsement, just my experience.
Used copies of my book, The Complete Guide to Digital Infrared Photography is currently are available from Amazon starting at $24.28 as I write this. Creative Digital Monochrome Effects has a chapter on IR photography and is available from Amazon with new copies at $44.90 with used copies starting around two bucks—a bargain for one of my favorite books.