Today's Post by Joe Farace
Snow is expected today in my little corner of Colorado and all of the leaves that are currently on trees may soon disappear because of a heavy wet Fall snow. How much snow and it's effects on deciduous tress will determine how many, if any, leaves will remain and that may affect how I make digital infrared images over the next several months. It may just be last chance infrared.
I've said it here before that you can shoot infrared any time of the year and I've made IR images made during the winter when deciduous trees have shed all of their leaves but I always feel that the results are not that much different from a well crafted black & white photograph. Or maybe not?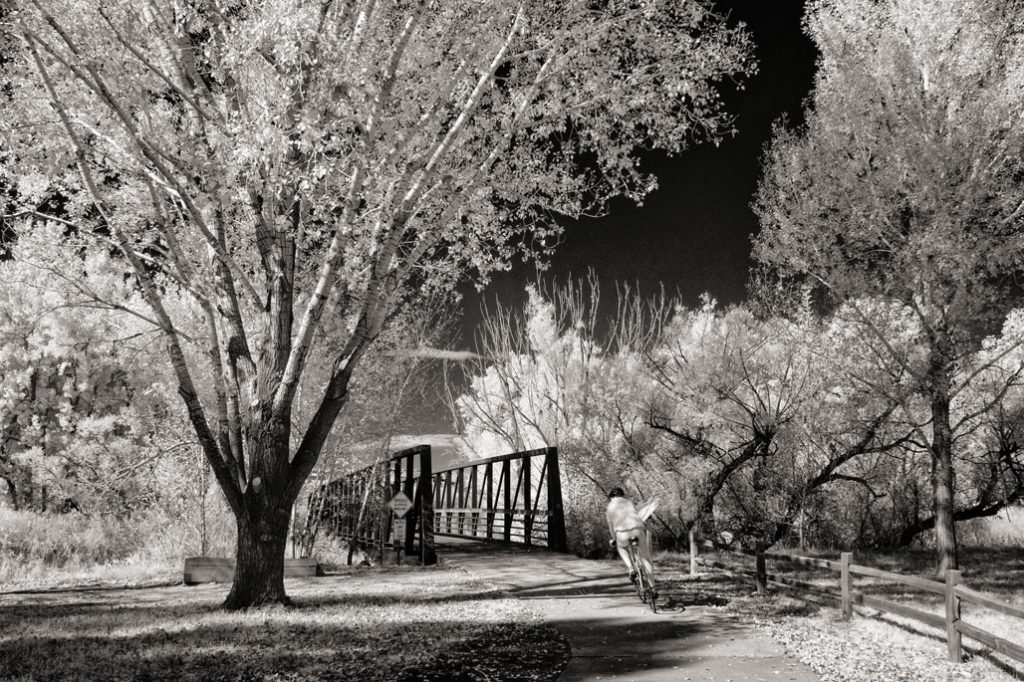 How I made this shot: This infrared image was made late in the fall of '18 at the McCabe Meadows open space to shoot what I expected to be the last of the season's IR images with deciduous trees still having some leaves left.* It  was shot using a Panasonic Lumix G5 that had been converted to IR-only capture by LifePixel. Lens was a Lumix 14-45mm f/3.5-5.6 ASPH/MEGA OIS (at 16mm) with an exposure of 1/400 sec at f/9 and ISO 400 to freeze the cyclist's action. The RAW file was processed in Silver Efex Pro and lightly toned using PixelGenius' now-free PhotoKit 2.
Because of the kind of focusing issues, previously mentioned, I usually shoot infrared photographs as close to f/16 as I can. This means slower shutter speeds and that's where the optical image stabilization in the Lumix 14-45mm f/3.5-5.6 lens I used for this makes a difference. (I acquired this lens to replace the 14-42mm kit lens that originally came with the G5.)
If you're interested in trying infrared photography, check out my series of IR Workshops to be held near Parker, Colorado in May, 2020. Check the Workshops section of the blog for updates.
* I recently made some infrared images with Canon's EOS M6 Mark II using some of the filters in my IR kit for an upcoming review of the camera for Shutterbug Digital. I'll update this post with a link to the review when it runs.
---
Life Pixel does a great job with IR conversions and they have done most of the conversions for my Canon DSLRs and all of my Panasonic Lumix G-series cameras.
My book, The Complete Guide to Digital Infrared Photography, is currently out-of-print but used copies are available from Amazon for $6.49, as I write this. Creative Digital Monochrome Effects has a nice chapter on infrared photography and is available from Amazon with used copies starting at giveaway—less than three bucks—prices.