Today's Post by Joe Farace
Following up on yesterdays theme of getting my inspiration from the movies…
Whenever I'm asked to do a presentation about infrared photography to photographic organizations  I always kick it off with a questions that I was once asked: A reader once e-mailed asking "Why do you do infrared photography, when regular photography is already so hard?"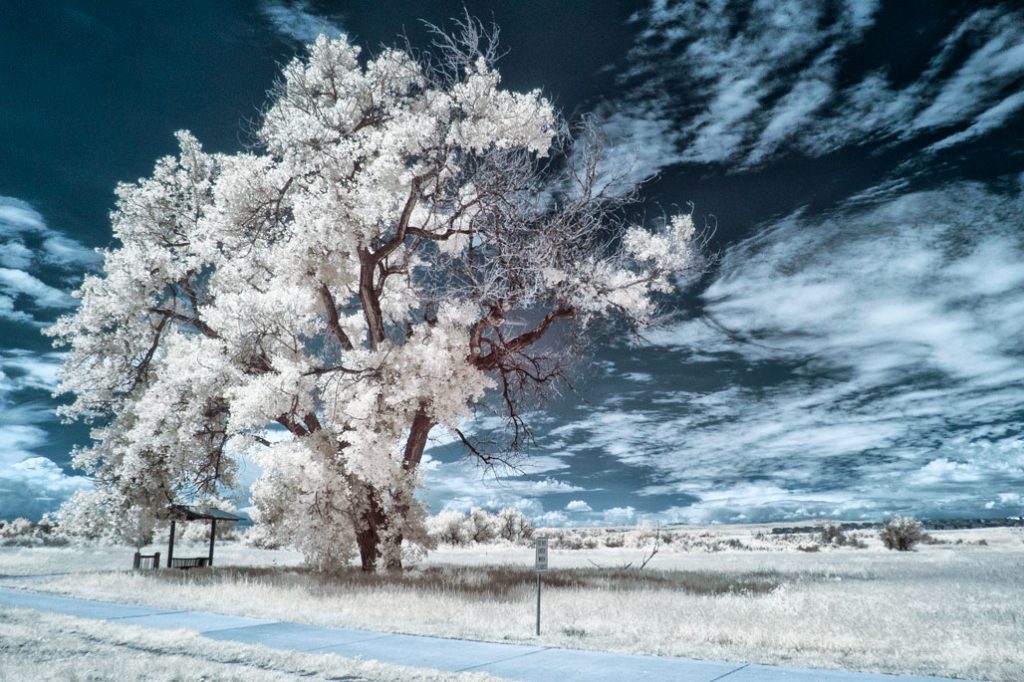 How I made this shot: I made this IR image at McCabe Meadows using a Panasonic Lumix G6 that had been converted by Life Pixel using their Enhanced IR filter conversion. Lens used was the Lumix G Vario 12-32mm f/3.5-5.6 at 12mm with an exposure of 1/320 sec at f/13 and ISO 400. The Blue Sky effect was applied using techniques outlined here.
The short answer, for me anyway, is because it's fun. Sure it's a bit more techy than traditional visible light photography but the payoff is that it produces the kind of image you can't get any other way. And sure, you need specialized gear whether it's a special filter (read my post on that subject here) or spending extra cash to get a camera converted to infrared capture only by companies such as LifePixel. My advice on the latter is that should should convert an older camera that's just been sitting around rather than your bread and butter daily shooter.
Infrared is not as exotic as you think. In the 1948 film Fort Apache, John Ford's cinematographer, Archie Stout, suggested that they shoot the climactic confrontation at the end of the film using infrared film to create dramatic images of the Monument Valley location where it was filmed.
I've often said that one of my main influences was not other photographer's work as much as it was the movies. And after watching the beautifully restored version of Fort Apache on Blue-Ray over the weekend, I have added photographing Monument Valley in infrared to my bucket list.
---
I've found that Life Pixel does a great job with IR conversions and they have done most of the conversions for my Canon DSLRs and all of my Panasonic Lumix G-series cameras. This is not a paid or sponsored endorsement, just my experience.
My book, The Complete Guide to Digital Infrared Photography is available from Amazon with used copies starting for $9.99 as I write this. Creative Digital Monochrome Effects has a chapter on IR photography and is available from Amazon with used copies starting at a little more than two bucks.