Today's Post by Joe Farace
When I received the Panasonic Lumix S1R for testing it was accompanied by the Lumix S 24-105mm f/4 Macro OIS lens. If you buy the lens as a kit with the S1R it adds $900.99 to the price, otherwise it'll set you back $1297.99, so from that perspective it's a good deal.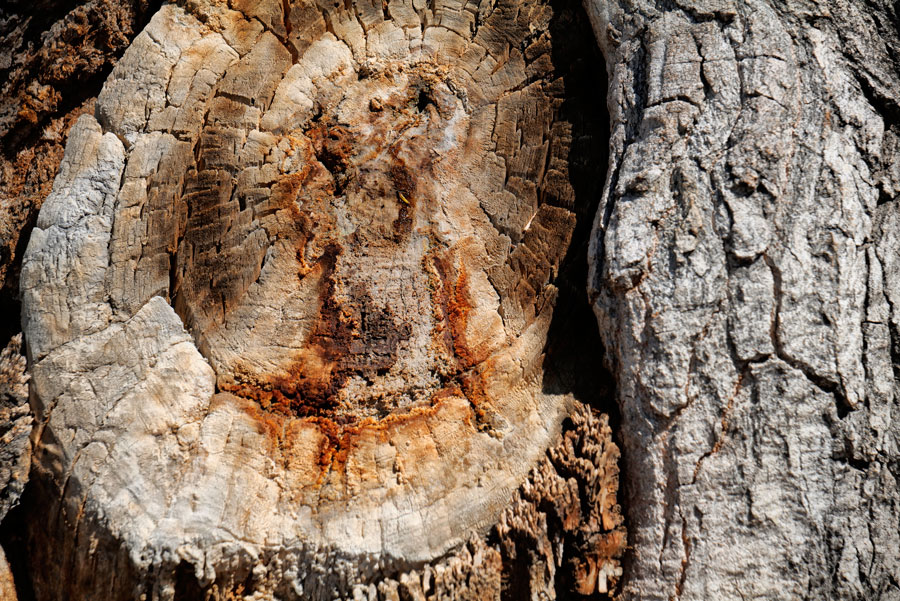 The lens covers a useful range of focal lengths from wide angle to portraiture and it's constant f/4 aperture makes for a pleasant change from many "kit" lenses with variable apertures, although to call an almost $1,300 lens a kit lens seems like a misnomer to me. The lens is splash, dust, and freezeproof and works in inclement weather conditions down to -14 degrees F, something that shooting in May/June did not present even being in Colorado. Construction is to a high standard with not a trace of cutting corners by using substitute materials to make the lens lighter or cheaper. It's built like and feels like a bank vault.
The optical design consists of a four aspherical elements, including two made from extra-low dispersion glass to minimize distortions and spherical aberrations throughout the zoom range and two extra-low dispersion elements to reduce chromatic aberrations and color fringing. The rounded nine-blade diaphragm produces pleasing bokeh.
Optical Image Stabilization helps control the effects of camera shake and supports The S1R's Five-Axis Dual I.S. 2 for increased stabilization and provides six stops of stabilization with the Lumix S1R. On the barrel, you'll find an AF/MF switch permits quick changing between focusing modes and a zoom lock switch can be used to prevent the lens from extending when not in use, although that did not seem to be a real problem when using the lens.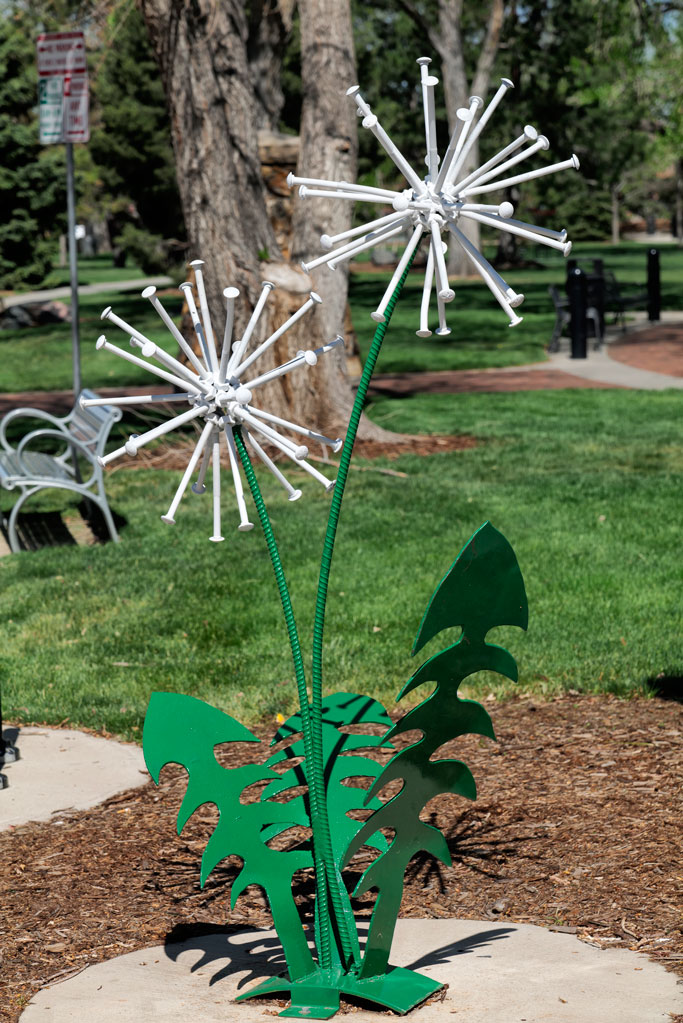 Traditionally, a macro lens is capable of reproduction ratios of 1:1, so that the size of the object being photographed is the same size in the image. But for a long time the term has come to mean any lens that has a large reproduction ratio, despite rarely exceeding 1:1. Panasonic's 24-105mm f/4, for example, has a 1:2 maximum magnification ratio with an 11.8-inch minimum focusing distance, so it's "macro" in a way that lens manufactures translate the term as really just close focusing.
How I made this shot: All of the photos in today's post were made in Downtown Parker, Colorado. Things are slowly coming back to normal since the county has been granted a variance by the Heath Department to reopen restaurants, houses of worship, gyms and a mall with limited occupancy.
For the shot at right, the Lumix S 24-105mm f/4 Macro O.I.S. lens was at 105mm with a Program mode exposure of 1/800 sec at f/8 and ISO 320. When I moved in closer for a tight shot of the "dandelions" the camera would not autofocus. The easy work around was to use the joystick on the S1R's back to position the focus point atop one of the white "stalks" but that takes time and maybe in the grand scheme of the universe, if you're shooting macro you're not in as much of a hurry as when you're doing street photography, a genre the S1R is definitely not suited too.
Next, I first took the 24-105mm f/4 lens to my well-laid wall o'bricks for an informal evaluation: At 24mm and wide open there was no visible barrel or pincushion distortion and if there was any vignetting at the corners it was less than a few percentage points and quickly dissipates as you stop down even a half-stop. At 105mm wide open the results were as close to perfection as my eyes have seen when photographing these bricks for the past several years.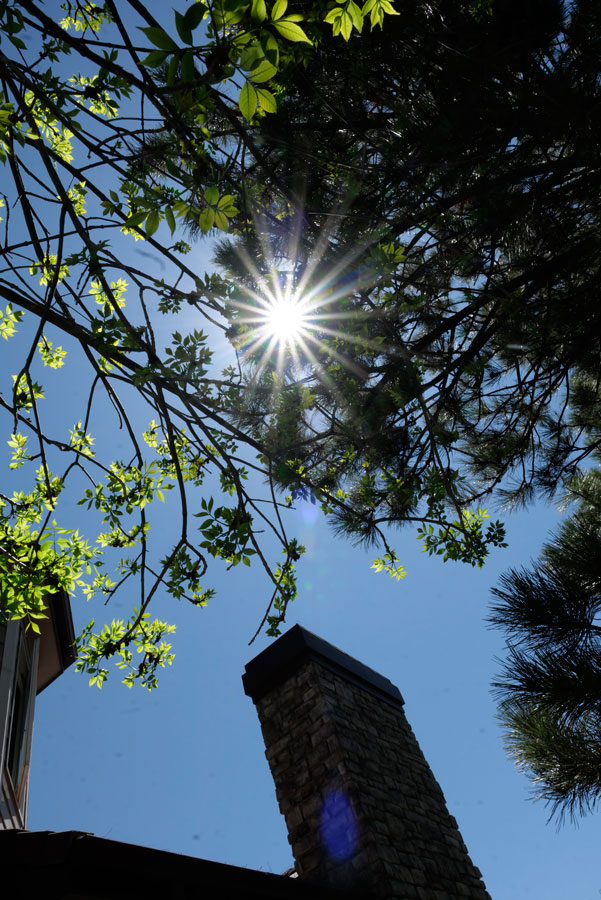 For 2020, I'm also testing for Longitudinal Chromatic Aberration aka LOCA. This effect occurs when a lens can't focus different colors in the same focal plane and when it does occur produces a magenta or green halo around the edges of objects. The 24-105mm f/4 lens passed this test with flying colors, although the S1R or lens continued to struggle with AF on thin objects at the longest focal length. When I start testing the Sigma L-mount lenses, we'll see if this behavior persists.
The lens produced pretty nice looking sunstars when stopped down to f/22, its smallest aperture. I give it an strong nine on the Farace Sunstar Scale and considering how I was shooting directly into the sun, the amount of flare produced is minimal and either acceptable or correctable by cropping or retouching in Photoshop if it offends your sensibilities. So I guess the seemingly small built-in lens hood did its job
The Lumix S 24-105mm f/4 lens is an amazing performer but I can here some of my readers saying, "It should be for the price" but that doesn't change what an incredible feat of optics this lens represents.
More to come in my Lumix S1R field test…
---
If you enjoyed today's blog post and would like to buy Joe a cup of Earl Grey tea ($2.50), click here