Today's Post by Joe Farace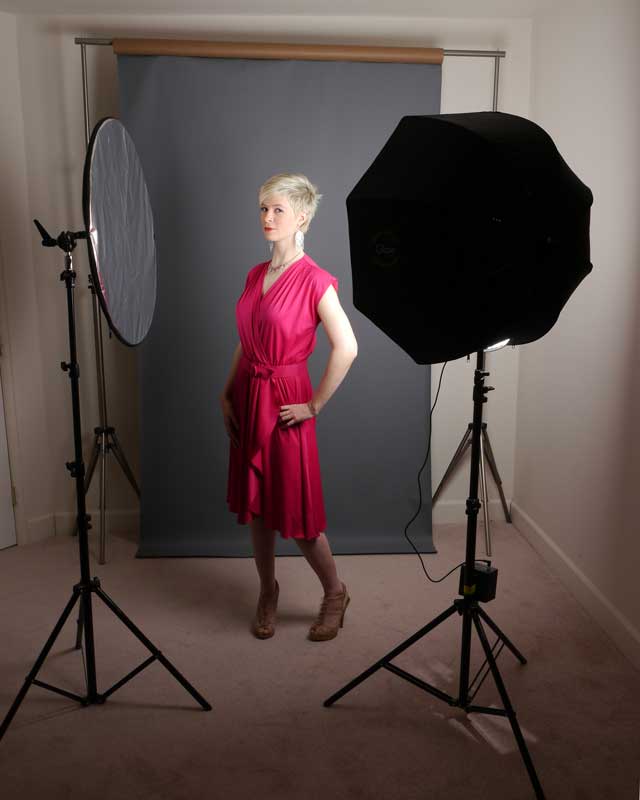 A muse is a woman or force personified as a woman, who is the source of inspiration for a creative artist. If you have a friend or maybe yourself who would like to be a muse or have questions about the concept or would like to schedule an interview about becoming my muse, please click the Contact button and let's talk.
While the wonderfully vivacious Pamela Simpson was never officially (or even semi-officially) my muse there is no doubt that the four plus years that we worked together produced some great-looking images.
One of the delights of working with Pam was never knowing what her hair style or even its color would be from shoot-to-shoot but at this point in our photographic relationship she seemed to have settled on one color—blonde—with some slight variations of this style.
How I made this shot: Today's image is from our twelfth portrait session together that was held on February 11, 2014.
Lighting for this portrait was provided by a Flashpoint battery powered monolight placed at camera right. The light modifier used was a 36-inch Glow Softbox Octa-R softbox. It has an octagonal shape, one of my favorites for portraiture because of the way it evenly spreads light. The softbox is made from a sturdy rubberized material and its front cover accepts grids and there's a zipper cutout for a lightstand, which means it attaches via the monolight's umbrella mount. No speed ring is required.
The main and only light was supplemented with an inexpensive ($29.90) Westcott 30-inch 5-in-1 Reflector that was placed at camera left just out of camera range. Camera used was a Panasonic Lumix GH4 with Lumix G Vario 14-42mm f/3.5-5.6 lens with an exposure of 1/125 sec at f/8 and ISO 200.

Background was a  5×7-ft Savage's Photo Gray Infinity vinyl background that's suspended on an old falling-apart set of JTL background stands. One of the reasons I like this background is that it's perfect for color correcting using PictoColor's iCorrect Portrait. Just click on the background and viola! skin tone is perfect.
---
If you enjoyed today's blog post and would like to buy Joe a cup of Earl Grey tea ($2.50), click here. And if you do, thanks so much.

My book Joe Farace's Glamour Photography is full of tips, tools and techniques for glamour and boudoir photography with new copies available from Amazon for $26.53, as I write this. Used copies are selling for the hard-to-beat price price of $8.91 and the Kindle version is only $11.99 for those who prefer a digital format.