Today's Post by Joe Farace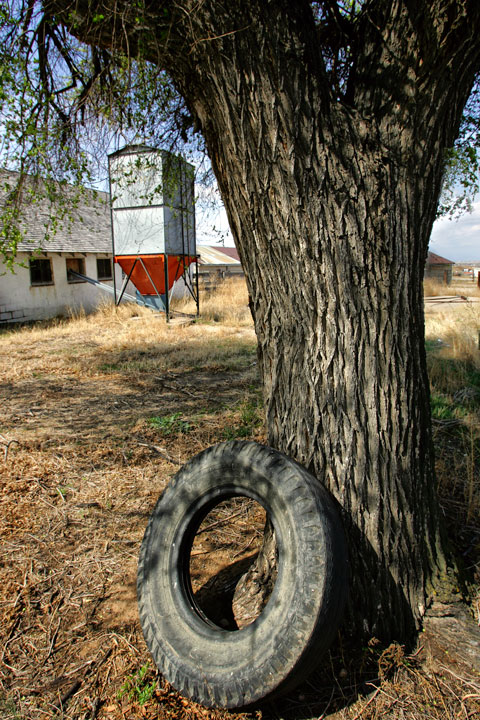 "I could walk a mile in your shoes, but I already know they're just as uncomfortable as mine. Let's walk next to each other instead…" ― Lynda Meyers
I think that the best way to improve your photography is to practice.
Make sure that you shoot something each week so you eventually get to the point where you don't have to think about how to operate your gear, you just shoot. And when you do, you'll know it will be, at least, interesting.
When I lived in Brighton. Colorado I used to take a daily three-mile walk and more often than not would bring along a camera and make a few pictures every day.
Early on in my walk route I would pass by this tire that was propped up against a tree on a local farm. Following my own advice on this subject, I would not trespass on this private property and instead stood on the side of the road dodging traffic to make this shot. I made a similar shot many times and never got tired of doing it, much like the multiple images that I made of my very first photograph.
How I made this shot: This image is the one that sticks in my head from the 15 years that I lived in Brighton, Colorado. Today's featured photographs was made with my old but beloved (and now sold) Canon EOS 1D Mark IIN with an EF 16-35mm f/2.8L II USM lens at 16mm with a Program mode exposure of 1/320 sec at f/9 and ISO 200.
---
If you enjoyed today's and my recent posts and would like to support this blog, you can help by making a contribution via my Patreon, where memberships start at just $2.50, with additional levels of support at $5 and $10 that includes special benefits. And if you do, I would like to thank you for your support.