Today's Post by Joe Farace
A personal note: Tomorrow I will have the stitches removed from my recent hand surgery. Shortly after that I'll be wearing a brace made by physical therapy for several weeks. The brace is supposed to let me make photographs and type, which I plan to test and let you know how it goes. Check my Instagram feed (@joefarace) for updates on how I'm doing with posts from Mary.
People often ask me "how did you make that shot?" So today I'll tell you about how I made this one particular portrait of model Misa Lynn.
To start with the portrait was made in my 11×15-foot home studio using Speedotron's Two-Light Travel System kit. This kit includes an 800 Watt-second power pack along with two M11 flash heads and two seven-inch, 105 degree reflectors, plus one 48-inch silver umbrella, a 54-inch silver umbrella with removable black cover, two 7.5-foot lightstands and a soft carrying case. Weighing in at nearly 40 pounds, the kit packs easily into the trunk of most cars or the back of a small SUV while offering enough power and control options to handle a variety of assignments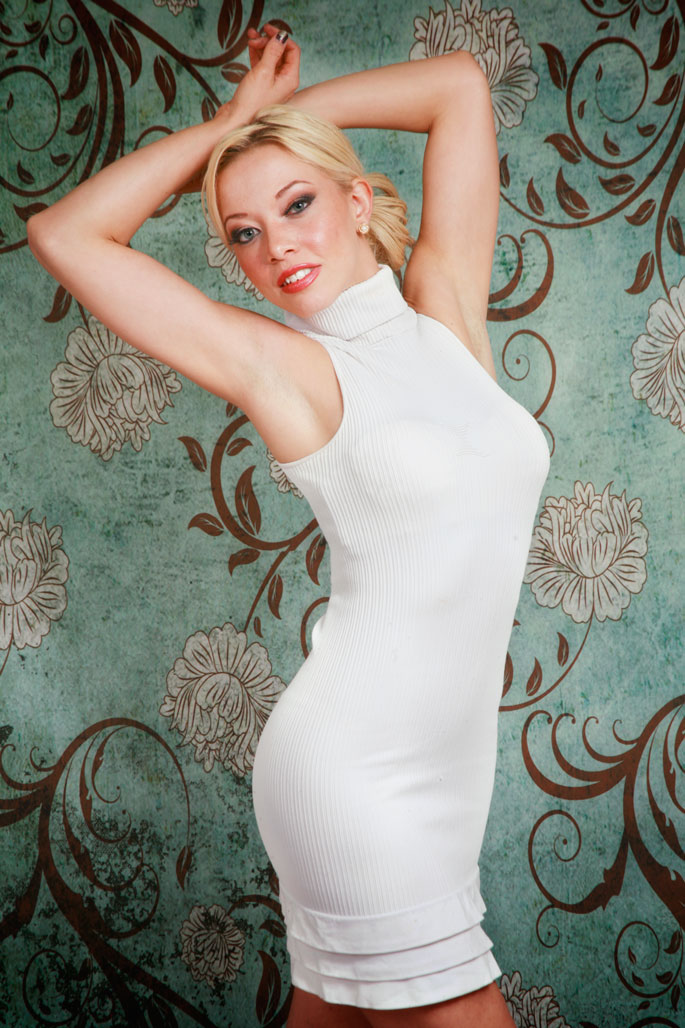 In my home studio, it took me about 45 minutes to set up all of the kit's components including installing flash tubes and modeling lights in both heads, attaching reflectors, popping and mounting both umbrellas, and making a few test shots.
How I made this shot: Looking oh-so Sharon Stone (think Basic Instinct) Misa Lynn's white dress contrasts nicely with the Silverlake Photo's "Wild Flower" Colorsmack background.
Lighting was provided by a Speedotron M11 light head with 48-inch black-backed Photoflex silver reflector umbrella placed at camera right with the other M11 head attached with 54-inch silver umbrella that was placed near the back of my studio. Power on the pack was set at 400 Ws in Symmetrical mode producing a final exposure of 1/125 sec at f/16 at ISO 100 with a Canon EOS 50D and EF 28-135mm f/3.5-5.6 IS lens (at 125mm.)
---
If you enjoyed today's blog post and would like to buy Joe a cup of Earl Grey tea ($2.50), click here. And if you do, thank you very much.
My book Joe Farace's Glamour Photography is full of tips, tools and techniques for glamour and boudoir photography with new copies available from Amazon for $27.43, as I write this. Used copies start at the hard-to-beat price price of $5.45 and the Kindle version is $11.99 for those who prefer a digital format.