Today's Pots by Joe Farace
"It is not good to cross the bridge before you get to it."—Judi Dench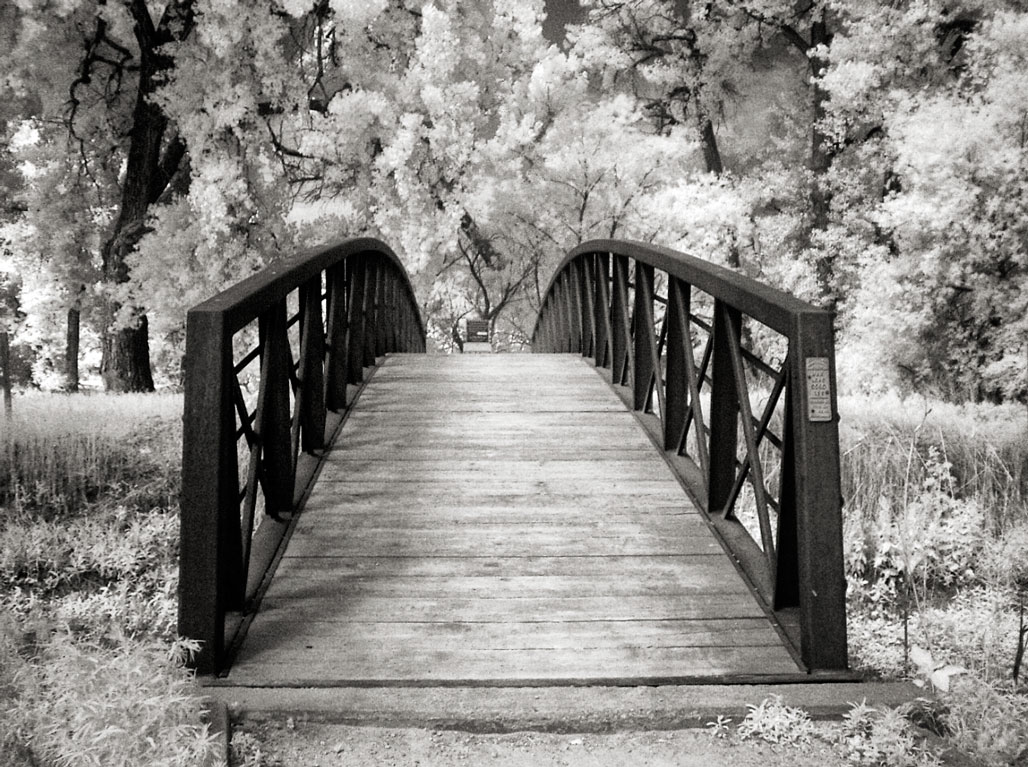 The above image is from my now out-of-print book
The Complete Guide to Digital Infrared Photography.
This was not my preferred title for this book, by the way. It was shoved down my throat by the publisher; I wanted something less pretentious. Used copies of the book are available at bargain prices from
Amazon
and this image can be found in Chapter Four on 'Capturing Options.'
How I made this shot: This image was shot with a tripod-mounted FujiFilm 3.1-megapixel S20 Pro using a 58mm Hoya R72 Infrared filter that, at the time, was the least expensive way to create IR images with a filter. Right now, a 58mm Hoya R72 is still relatively inexpensive at $47.59 and is one of the three basic filters in my infrared filter kit. Exposure was 1/5 sec at f/2.8 and ISO 200.
Image was toned using Pixel Genius' PhotoKit. If you follow that link you'll discover that PixelGenius stopped developing this and their other products and have released PhotoKit, PhotoKit Sharpener and PhotoKit Color as freeware without requiring serial numbers or activation. Be sure to download PhotoKit. It does more than just toning and I've found it indispensable when working in Photoshop.
While the above image was made using an infrared filter and that remains the least expensive way to get into infrared photography, this method has some limitations. That's why most of my recent IR photography has been done using infrared-converted cameras. For a look at a comparison of the two methods, read my post Infrared Capture: Filter or Conversion? when you have time.
---
I've found that Life Pixel does a great job with IR conversions and they have done most of the conversions for my Canon DSLRs and all of my Panasonic Lumix G-series cameras. This is not a paid or sponsored endorsement, just my experience.
My book, The Complete Guide to Digital Infrared Photography is available from Amazon with used copies selling from $5.00 as I write this. Creative Digital Monochrome Effects has a chapter on IR photography and is available from Amazon with used copies starting at $4.00.