Today's Post by Joe Farace
Let me start by wishing everyone a Happy National Ice Cream Pie Day and if you want to learn more, click here.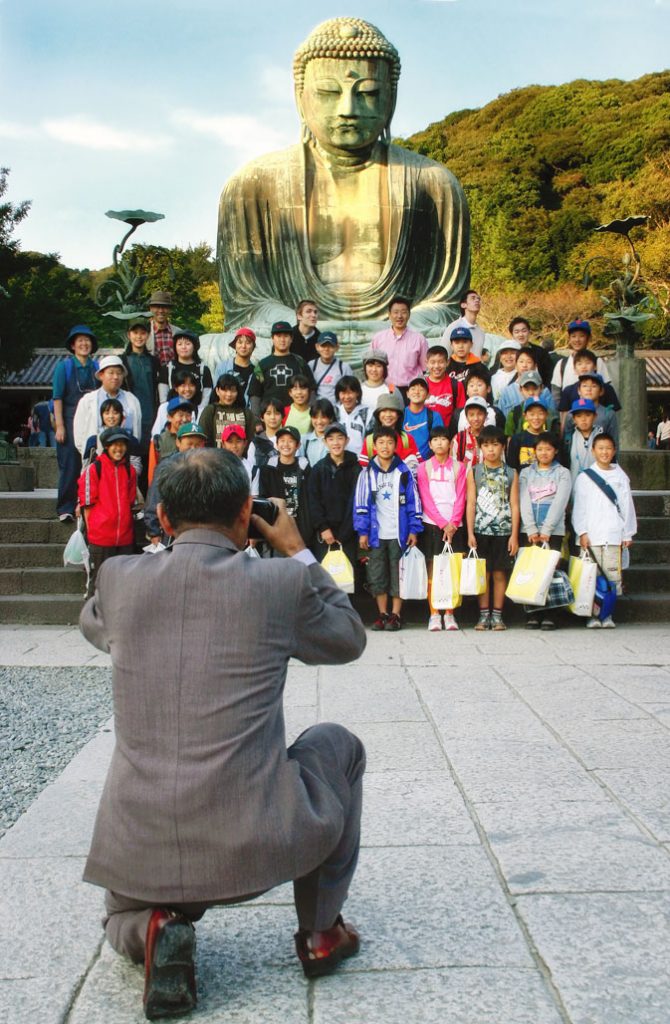 If you only learn one new thing from today's post, this is it: Don't buy a new camera or lens on the Thursday before leaving for a week long trek in Africa, Macho Picchu or Easter Island.
If there is any secret about travel photography it's that using your equipment has to be instinctive; when an opportunity presents itself you may only have a few seconds to get a shot. There's no time to think about what menu to use or how do I turn on continuous AF or what exposure mode am I in anyway?
The scouts have it right, you have to "be prepared." Just as important as knowing your equipment inside and out is what other stuff you'll need to bring along to make sure that the images from the trip are as vivid as your memories.
How I made this shot: I was in Japan and visiting one of the three largest statues of Buddha in the country, when I saw this teacher making a class photo in front of the statue. I made four shots and this was the one I liked best. It was made with a Canon EOS Digital Rebel and 18-55mm kit lens with an exposure of 1/200 sec at f/10 and ISO 200. It was slightly underexposed and I used this technique to correct that.

Travel Photography Check List
Don't forget batteries and a charger. There's may not be a 7-11 in Baubau
Pack lots of memory cards.
A small umbrella can be invaluable. You know it's gonna rain.
If you have room bring along tripod like the MeFOTO GlobeTrotter S or maybe The Pod.
You'll need a study bag to keep it all in
A useful tripod substitute: The beanbag-like (it's full of plastic beans) Pod easily fits inside a jacket pocket or camera bag. It uses a standard ¼ inch camera-mounting screw and is covered with water-resistant, industrial-grade nylon. It has a non-marking/non-slip base that won't scratch or mar surfaces. The Red Pod weighs 0.75 pounds and measures five inches in diameter and is two inches thick.My red Pod got lost somewhere along the way and I've almost given up on finding it; maybe I'll need to buy a anew one. (then the old one will turn up for sure.)
---
If you enjoyed today's blog post and would like to treat me to a cup of Earl Grey tea ($2.50), please click here. And if you do, thanks so much.
Along with photographer Barry Staver, I'm co-author of Better Available Light Digital Photography that's available from Amazon for $21.49 prices with used copies starting around nine bucks, as I write this.