Today's Post by Joe Farace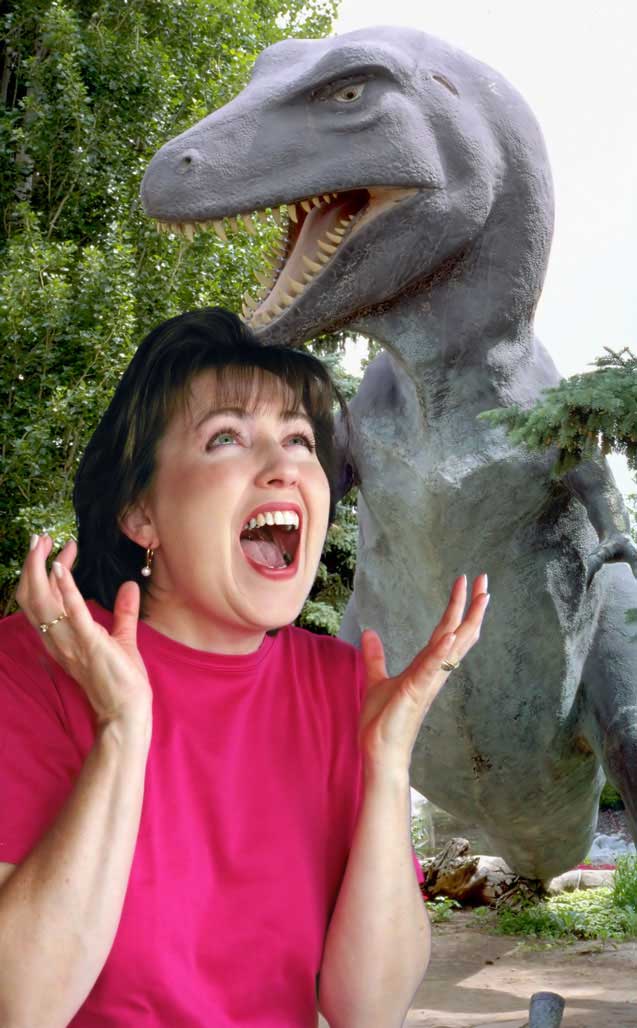 Godzilla: King of the Monsters is scheduled to be theatrically released in the United States on May 31, 2019, in 2D, 3D, Dolby Cinema, and IMAX. A sequel, Godzilla vs. Kong, is scheduled to be released on March 13, 2020.
Regular readers know that I'm a movie fan and many times motion pictures are the inspiration for some of my still photography.
Even before the first Godzilla movie premiered in 1954, I was a fan of monster movies and special effects films starting with the original King Kong. As I got older, I became fascinated by monsters created by genre masters such as Ray Harryhousen and so thought it would be fun to recreate a strip of film from an imaginary monster movie. Instead of the legendary Fay Wray, I drafted my wife Mary into playing the damsel in distress.
How I made this shot: Mary was photographed using window light in the kitchen of our former home in front of an old 5 x 6-foot collapsible Westcott Chroma-key background. The full-size Tyrannosaurus Rex was photographed at the Utah Field House of Natural History in Vernal Utah, which has a wonderful outdoor museum that is literally a real Jurassic Park, except their sculptures don't bite. I know Godzilla is not a T-Rex but that's the closest I could get to a real-life monster.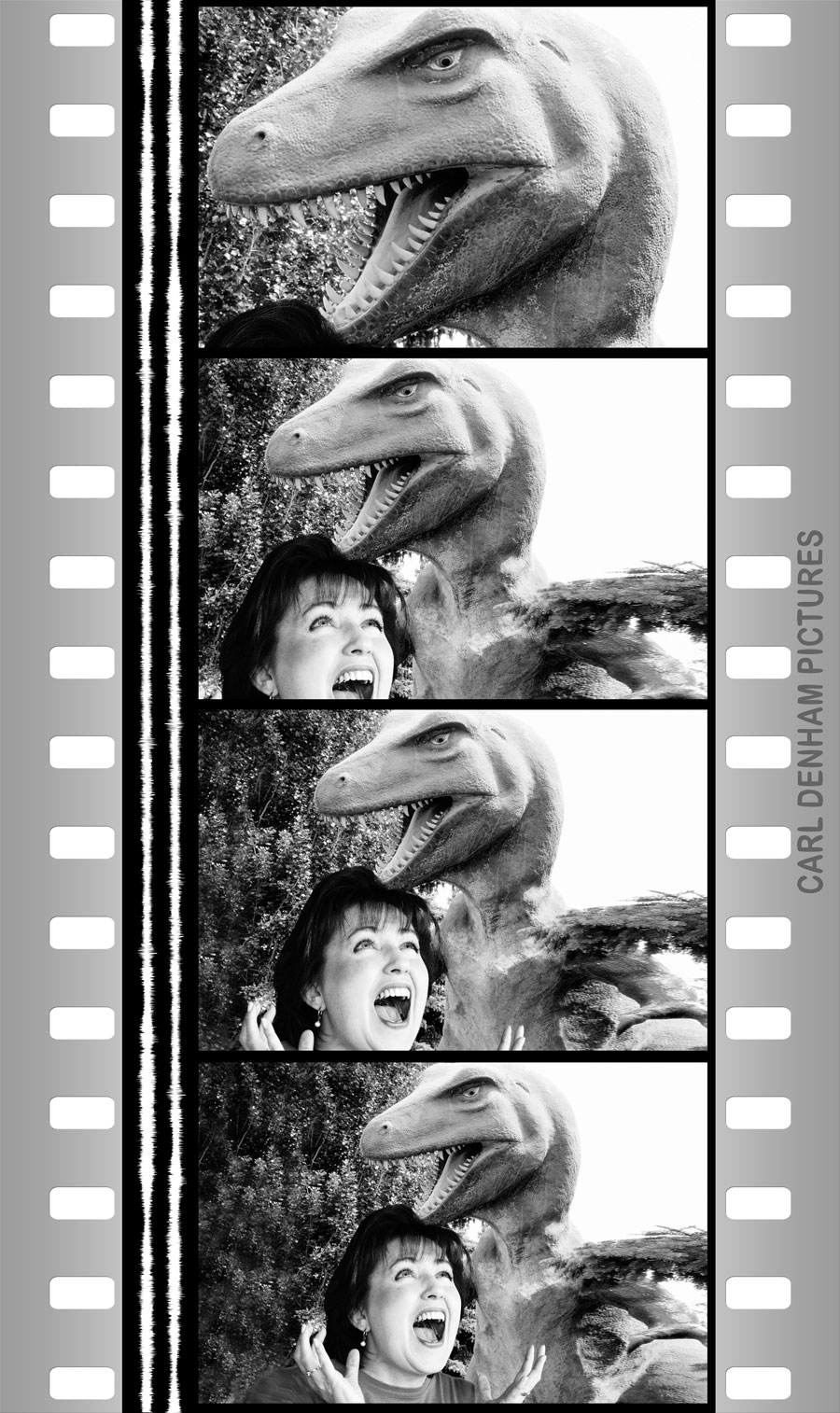 The two different images were combined using Digital Anarchy's Primatte Chromakey, a Photoshop-compatible plug-in that lets you to create a composite image by removing the blue/green screen background from a photograph leaving the subject against a transparent background.
The original Gojira (the film's Japanese title) was a black and white movie so I converted the color composite image into monochrome using OnOne Software's Perfect B&W. I cropped the black and white image into a series of photograph to make it look as if was a zoom or tracking shot being played out in the film frames or a least I tried to.
The filmstrip effect you see was a custom Photoshop action that was created for me by PanosFX's Panos Efstathiadis and is a variation of his commercially available Filmstrips Photoshop actions. This particlaur variation never caught on with anybody but me, so what Panos/FX currently offers is the latest, improved and in many ways more versatile Photoshop actions. You can read more about his current Filmstrip actions here.
---
If you enjoyed today's blog post and would like to treat Joe to a cup of Earl Grey tea ($2.50), click here. And if you do, thanks so much.
My book Creative Digital Monochrome Effects is currently out-of-print but is available from Amazon with, as I write this, expensive new copies but used copies starting at $8.08 as I write this. For some reason, no Kindle version is available for this book,.