Today's Post by Joe Farace
One of the things that I like to do to get myself out of a photographic rut is to make portraits in monochrome mode. It doesn't have to be all of the images that you make during a session; maybe just a few to, you know, see what happens.
You may think that's a bad idea because you worry about what happens if you change your mind at some later date and want that image to be in color? Just set the camera's capture mode to RAW+JPEG and then select Monochrome and you will capture a monochrome (JPEG) and color (RAW) file at the same time. Some dual-slot cameras even let you simultaneously shoot RAW onto the one memory card and JPEG files onto the other card.
If you prefer you can capture in color and convert to monochrome later in the digital darkroom. The biggest differences and advantage to this approach is that most retouching tools, including my favorite—Imagenomic's' Portraiture—work better with color files that 256-color monochrome images. Tip: To avoid plasticky looking skin tones when using Portraiture, you should apply its retouching onto a separate layer, then use Photoshop's Opacity menu to lower the opacity of the topmost retouching layer until you see actual skin tone starting to peek through from the bottom or background layer.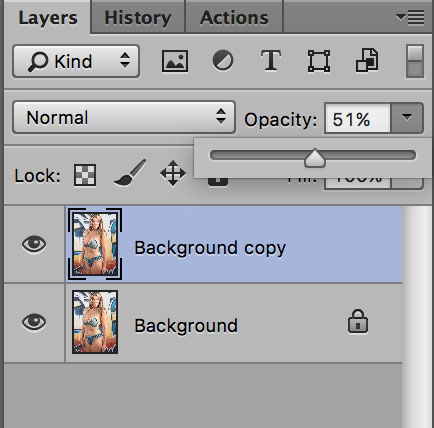 That's why, more often than not, I'll shoot portraits in color (RAW) and convert to monochrome later using Silver Efex Pro but I didn't do that for the above image.
How I Made the above shot: The subject is my former muse Tia Stoneman who is rockin' a retro vibe. She was photographed outdoors in the doorway of an old building that has since been remodeled into something nicer but with decidedly less character. I asked Tia to sit near the doorway and then her pose was refined—shooting through the pose—before arriving at this shot after making eight different variations of it. Image was captured directly in monochrome mode using a Canon EOS 50D and the wonderful but now discontinued EF 28-105mm f/3.5-4.5 II lens (at 53mm) that I'm sorry I sold. An EX550 speedlight was used for fill.
If you know of any models or aspiring models who would like to become my new muse, please have them Contact me through that email link.
---
Joe is the author of Posing for Portrait and Glamour Photography with new copies available at from Amazon for $12.18. Used copes, for some reason, start at $19.02 as I write this with Kindle versions selling for $11.57 for those preferring a digital format.