Today's Post by Joe Farace
Before the pandemic, at Camera and Coffee events or when teaching workshops I'm sometimes asked, "What's Your Favorite Photograph?" The glib answer to that question is "the one I'm going to make tomorrow" but what many people really want to know is what was the most challenging for me to shoot. If that's what you're interested in, you can see that photo and read about how I made it on my car photography blog.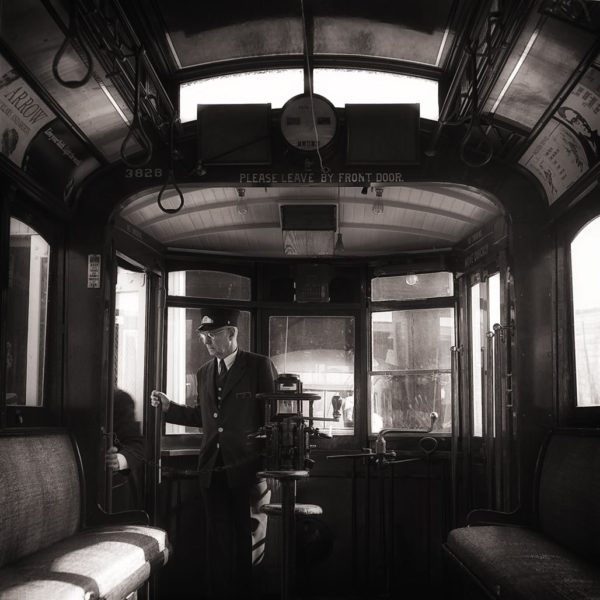 But for me my favorite photograph is the image at right. It was made during the mid-1970's at a time when I first began to get serious about photography both as a profession and an avocation. My affection for this photograph might just be nostalgia for a time that I still think about as the most creative period of my life and maybe that's what makes this particular photograph stick with me after all these years. Or maybe not.
This image was made when I was doing volunteer work for the Baltimore Streetcar Museum, attending the Maryland Institute College of Art at night, shooting weddings on the weekend and working full-time for a Great Metropolitan Phone Company. Yes, it was a creative time for me but no, it did nothing good for my private life.
One of the reasons that I like this photograph is the way the conductor is looking off the side. And that there's just part of a hand showing from outside and it's blurred from that person's movement. To me, the entire photograph has a feel that echoes a 1960 Twilight Zone episode called "A Stop at Willoughby." I leave it to psychologists (I know some of these medical professionals follow me on Twitter) to figure out why that particular Twilight Zone episode appeals to me.
How I made this shot: The camera I used was a medium format Mamiya C-33 twin lens reflex camera with 80mm f/2.8 Mamiya-Sekor lens both of which I bought used from a friend. I paid $100 for two C-33 bodies and that one lens. The image was shot using Tri-X film that I processed and later printed in the kitchen of my home at that time. Exposure was unrecorded and I only made that one frame, which I guess is part of the whole medium format experience that I hope to get back to real soon now.
---
If you enjoyed today's post and would like to support this blog allowing me to increase coverage of film photography, please consider making a monthly contribution via Patreon. Memberships start at just $2.50 a month, with other levels support of $5 and $10 that include special benefits. If subscriptions are not for you, that same linked page lets you to make a one-time contribution. I also recognize that the pandemic has had an adverse effect on many people's incomes, so if you would prefer to just send some good thoughts my way, that's appreciated too.