Today's Post by Joe Farace
"Never regret anything you have done with a sincere affection; nothing is lost that is born of the heart."—Basil Rathbone

Black and white is a wonderful media for making portraits because the lack of color simplifies the image, causing you to focus on the subject's face of the photograph instead of emphasizing their clothing or surroundings.
As I mentioned in my book Joe Farace's Glamour Photography, when Mary and I owned and operated our studio I wasn't a people photographer. During that time I tended to photograph things but occasionally because of scheduling and her availability I'd occasionally shoot a business portrait or headshot—but people were really Mary's game.
When she took an extended sabbatical from the studio's operations, things changed for me and influenced by the glamour images I was seeing on the internet I started making and enjoying making portraits, especially glamour.
How I Made this Shot: Today's featured portrait is from one of the first sessions that I did many years ago with aspiring models that were represented by a local modeling agency. I photographed this young, talented model in a friend's outdoor studio on a Sunday when it was closed to the public. Inspiration for this image was the 1943 movie Sherlock Holmes and The Spider Woman (portrayed in the film by Gale Sondergaard.) My 95-year old father-in law and I both have an affection for these Basil Rathbone-starring films.
The typical capture data I usually provide in these posts is missing for this image but if memory serves it was shot on Kodak color negative film using my original Contax 167MT, sans the P-5 battery pack of it's replacement, and a Carl Zeiss 85mm f/1.8 lens. It was made using only available light. The idea behind the image and the pose, I thought, was a good one but the backlighting washed out the image, even though I tried to save what I could using Adobe Photoshop. You can read more about this portrait, and see another interpretation of it along with the original color photograph in my book Posing for Portrait & Glamour Photography.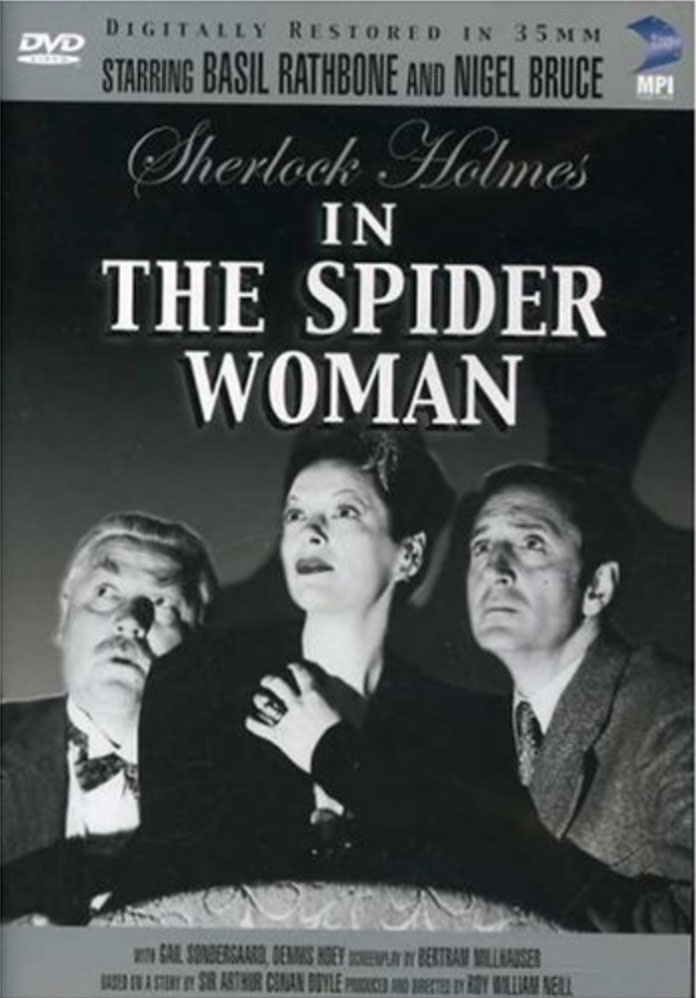 For this version I used Exposure Software's Exposure software to convert the scanned image file to monochrome. For reasons that I have beat to death on this blog, I used Exposure X5 and finished of the portrait with a dash of the Glamour Glow filter from Color Efex Pro.
Back in the not-so-old days the only way to make a black and white photograph was by shooting with black and white film in your camera. Today I hope to pick up the film I recently shot with my Yashica FX-3 Super 2000 and Contax 167MT that was processed and scanned at Mike's Camera in Lone Tree, Colorado. Look for an update and a Lab Report, similar to my car Service Reports, on the experience and quality of the processing real soon now.

---
If you enjoyed today's blog post and would like to treat me to a cup of Earl Grey tea ($2.50), click here. And if you do, thank you very much.
You can learn more about my posing techniques in Posing for Portrait & Glamour Photography and brand new books are available from Amazon.com for just $29.95 with used copies starting around twenty bucks, as I write this. Kindle versions are $28.45 for those preferring to have the book in digital form.