Today's Post by Joe Farace
When you get knocked down, you got to get back up. Otherwise, you are going to lose.—Anne-Marie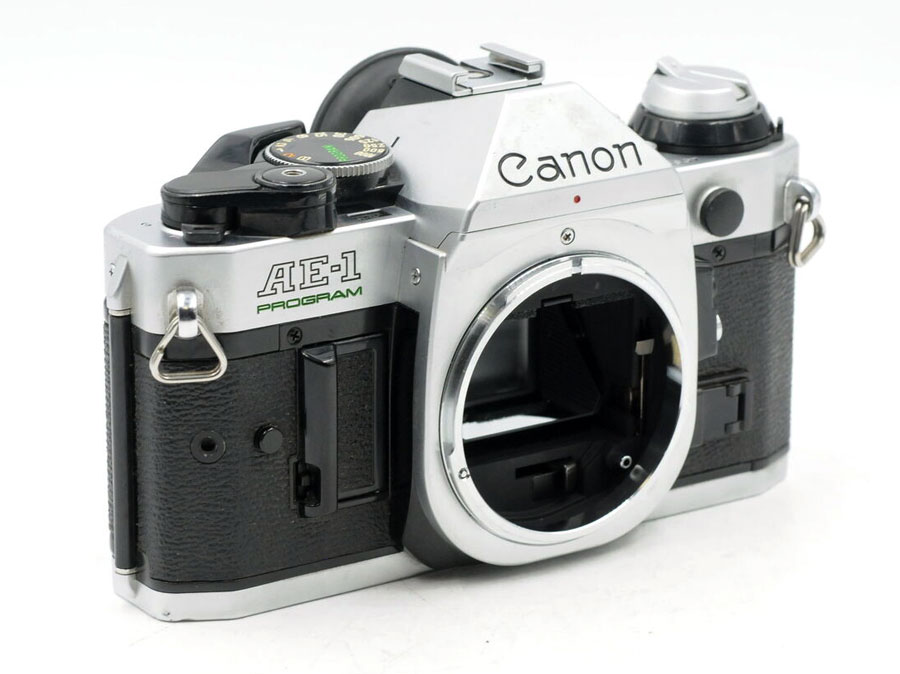 The  latest film SLR that I acquired for this blog's new focus on film photography is a Canon AE-1 Program. It uses Canon's FD mount and was introduced in April 1981 as the successor to the Canon AE-1. According to Canon's date coding system, my camera was built in March, 1984. The biggest difference between the two models was the addition of the Program mode that Canon first used its A-1. If you want more control, the AE-1 Program's shutter priority auto-exposure and full manual modes are still available.
Unlike the AE-1, the viewfinder uses LEDs to show information to the user. But like the A-1, the AE-1 Program has a right-hand grip mounted on its front but mine was missing it from the "good" condition model— meaning "this item is between 75-89% of original"—that I purchased. It definitely is on the 75% side of that range and the photo makes it look better than it is. The camera appears fully functional; no test roll yet, it just arrived yesterday, I hope to pick up a replacement grip* on eBay. The AE-1 Program supports the A-1's Motor Drive MA, which like the camera I also ordered from Roberts Camera. The faster Power Winder A2, is also supported. Roberts has a 14-day no-hassle return policy and a six-month warranty on  used gear, which is one of the reasons I like buying used gear from them. (See below update.)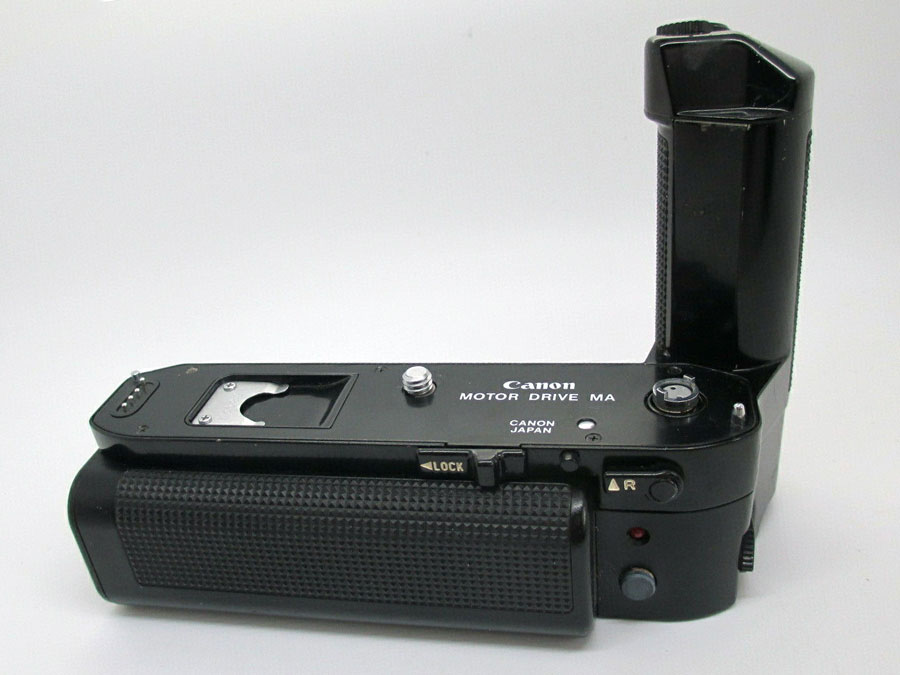 Like the A-1, the AE-1 Program supports interchangeable focusing screens that can be changed by the user. The camera came with a split/microprism screen as standard but seven other options were available. The focusing screen on the AE-1 Program is said to be brighter than any previous focusing screen in Canon's manual focus cameras but the screen in my personal AE-1 is surprisingly bright, amazingly and makes manual focusing a snap, The AE-1 Program retains the A-series electromagnet-controlled cloth-curtain shutter that limits top shutter speed to 1/1000 of a second and a flash sync speed of 1/60 second. Battery is the same as the AE-1's and I went to Batteries Plus to get the alkaline version but the camera was delivered with a battery installed. (See my AE-1 post for more on A-series camera batteries.)
The Motor Drive MA was designed for the A-1 in 1978 and can be used with the AE-1 and AE-1 Program. My example is in "good" condition and is on the 89% side of that range. Two separate power sources are available: the Battery Pack MA or the Ni-Cd Pack MA. My Battery Pack MA uses twelve AA batteries! Yet it's so compact that with it attached to the AE-1 Program, it's just one-quarter inch taller than an AE-1 with Winder A. Continuous shooting at up to four frames per second is possible with the AE-1 Program and motorized film advance stops automatically at end of a roll and lights a warning lamp. The lamp also lights  when motorized film advance takes a longer than normal indicating battery exhaustion.
Look for a field test real of my new (old) Canon AE-1 Program real soon now and a follow-up on the lab that processes the film that I end up shooting.
*I bought a grip. This turned out differently than what I thought. With the grip in place, you cannot install the Motor Drive MA, so I really didn't need it.
Update 10/16/21: After installing 12 new AA batteries in the motor drive, it fired three times before failing. When I called Roberts, the gentlemen in the used department seemed surprised that a 40-year old electrical component could fail but he transferred me to Roxanne, a breath of Midwest charm, who immediately emailed me a post paid return label and ordered a replacement drive they had in stock shipped that day—before they received the defective one from me. The motor drive was delivered on 10/18, the Monday following my call. With new batteries installed it worked perfectly. That's why I like shopping with Roberts Camera.
Back in the day, most pro photographers would never go on an assignment without a back-up camera. With digital capture this thinking seems to have vanished and I've talked with many shooters, even wedding photographers, who now go on assignments with just one camera. Last week I introduced you to my 43-year old
Canon AE-1
and got the idea of having a backup but for another reason that many photographers had another camera: So they could shoot color in one body and black and white in another. Something else that's disappeared with digital capture too and one of the reasons I like
RAW+JPEG
when shooting my DSLRs or mirrorless cameras. I wanted a back-up for the AE-1, so I could shoot color in one and B&W in the other and like many people did back in the day, one would be black and one would be chrome, so you could tell what was loaded in each one.