Today's Post by Joe Farace
Everybody needs a hobby, and in my case, I like to photograph barns and as the Colorado landscape becomes ever more urbanized I've been forced out onto the eastern prairie in search of old farm structures. But if you keep your eyes open you can find one like the below (that's now torn down) but are closer to home.
If this avocation sounds interesting to you, here's my personal rules for photographing barns. Keep in my that these are my rules for me. Treat them as suggestions for your own photography.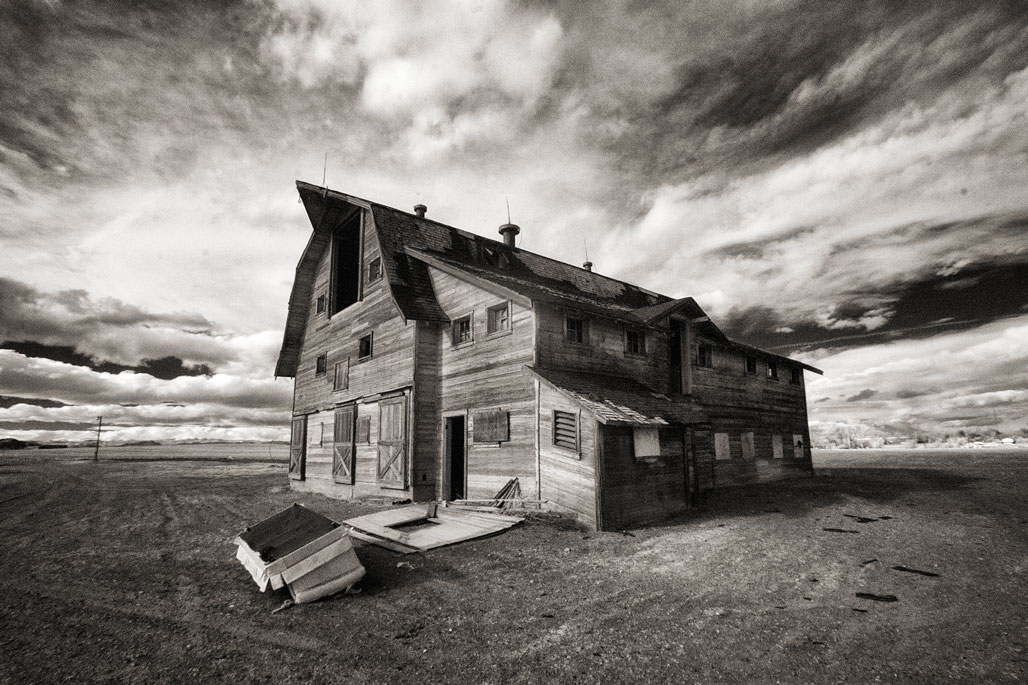 Always ask permission. Don't walk onto someone's land as if you own it. Look for "No Trespassing" signs and honor them if found. I used to keep prints of my barn photographs to show people what I was doing, thinking that once they understood what my photos looked like they would be more accommodating. Sometimes that worked, sometimes it didn't. Now I keep images on an iPad. They're more portable and don't get wrinkled.
Follow the press photographers adage of "f/8 and be there" and keep a camera in your car as you drive around your area.
Select the smallest possible lens aperture to get the greatest depth-of-field. In photographing barns, I prefer to shoot at the smallest possible aperture, preferring f/16 or smaller, especially for infrared like the above image. And don't forget that the total area of focus is one-third in front of the object and two-thirds behind to get all of the important details in clear detail.
I try to use the lowest possible ISO setting but that's not always possible if your hand holding a shot. Low ISO's can produce slow shutter speeds but using a tripod slows the pace of photography and lets you spend time making sure the composition is exactly what you want. Tip: Look at each corner of the frame before snapping the shutter. This eliminates unpleasant surprises—stuff that seemed to come of out nowhere to ruin an image.
How I made this shot: This barn was located not that far form my former home in Brighton CO. It was shot with my old Canon EOS 30D and the now-discontinued Tamron AF 11-18mm f/4.5-5.6 Di-II (at 11mm) with an exposure of 1/125 sec at f/16 and ISO 800. RAW file was processed in Silver Efex Pro, toned in PhotoKit 2 and then enhanced in Color Efex Pro.
---
The above image was created using an EOS 30D that was converted by Life Pixel, who does a great job with IR conversions and have done most of the conversions for my Canon DSLRs and all of my Panasonic Lumix G-series cameras. This is not a paid or sponsored endorsement, just my experience.
My book, The Complete Guide to Digital Infrared Photography is available from Amazon with new copies selling for $36.91 and used copies starting at one penny, as I write this. Creative Digital Monochrome Effects has a chapter on IR photography and is available from Amazon with used copies selling for $4. Less than the price of a Starbucks latte.