Today's Post by Joe Farace
One of the easiest ways to remove color shifts in a photograph is to just eliminate the color! OK, maybe you think that's cheating but sometimes a monochrome image is just what you need to focus the attention on the real subject and not its color. And monochrome doesn't have to mean black & white. One of monochrome's definition is that it's "a picture done in different shades of a single color," which in the photo world usually means toning. (Maybe hand coloring?)
Here's one way to produce a monochrome image: I took a color image and transformed it into something more interesting, at least I hope that's the case. The original unretouched SOOC JPEG portrait of Shea is at left. It was made using a Canon EOS 50D and EF 28-105mm f/3.5-4.5 lens. Exposure was 1/100 sec at f/6.3 and ISO 200. The EXIF data shows that flash was used but other than a tiny catchlight in the subject's eyes, there appears to be no other effect of using flash.
Below right, I used Photoshop's Selection tool along with Copy and Paste to rotate the model's head to make it more square to the camera. Then I cropped the overall photograph into a shape to match the cover format for my glamour photography book; the publisher had other ideas, see below.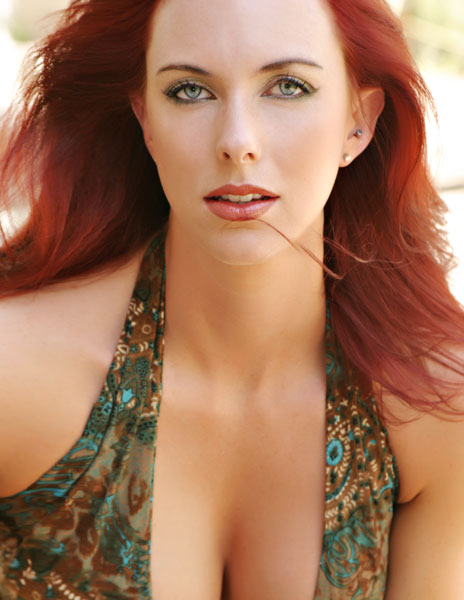 Then the image was retouched using Photoshop's Clone, Healing Brush and underutilized Dodge and Burn tools. Once you start retouching, especially at higher magnifications, you begin see little details that you want to improve but sooner or later you have to quit.
Tip: I have a 20-minute rule: If the finished photograph isn't the way I want it to look after 20 minutes, it's never going to satisfy me so I start again with another image.
Next, I converted the photograph into black and white using Silver Efex Pro, which created the first layer (working from bottom to top.) Then I applied the Color Stylizer filter that's part of Color Efex Pro. This was followed up with the Glamour Glow filter that's part of the Color Efex Pro too.
Because all of the effects were applied to different layers, you can vary the intensity of each one to produce the desired effect by using the Opacity control in the Layers palette. I then turned off the Background (color) layer because I only wanted to use the monochrome version as the basis of the final image.
In the final portrait, the subject's red hair and color outfit have been subdued allowing the viewer to focus on her face. For more information about some of my techniques check out this post and here's another. Better yet pick up my glamour photography book with used copies selling on Amazon for less than three bucks.
---
If you enjoyed today's blog post and would like to buy Joe a cup of Earl Grey tea ($2.50), click here. And if you do, thanks so much.

Joe Farace's Glamour Photography is full of tips, tools and techniques for glamour and boudoir photography with new copies available from Amazon for $27.43, as I write this. Used copies start at $2.49 and the Kindle version is only $11.99 for those who prefer a digital format.