Today's Post by Joe Farace
Taking pictures is like tiptoeing into the kitchen late at night and stealing Oreo cookies."— Diane Arbus
I haven't had an Oreo in a while but any photographer who's ever shot a portrait knows what the late Ms. Arbus was talking about. All that stands between the photographer and a good portrait is their imagination and a subject who's interesting in working together to create the best possible image.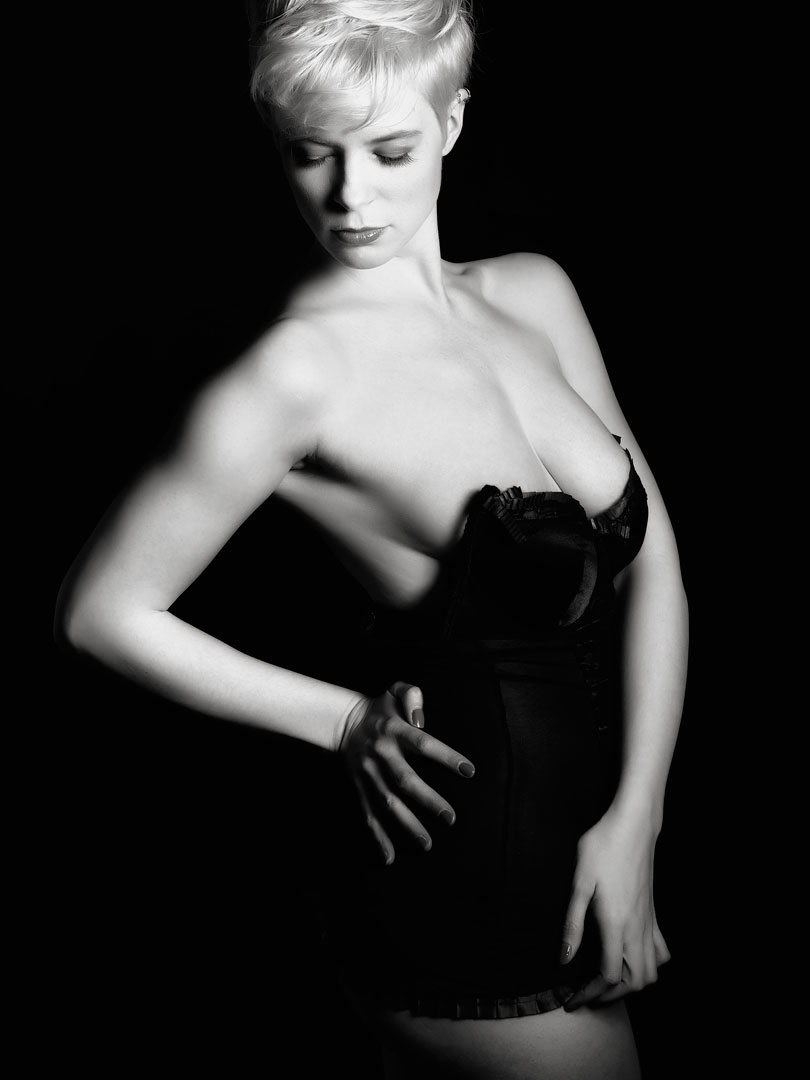 Because often there's nothing for the client to interact with in the studio—especially when shooting on a seamless background— the photographer's posing directions are going to have to be more precise than normal. Photographing a portrait subject against a seamless paper background is the ultimate test of one's ability to make something from nothing; you're shooting without a net—naked, even if your subject is wearing clothes.
My philosophy is that I don't want any of my client's intimate portraits to look the same as our other client's images. I believe that he session is all about them.
To that end I try to  take the time (pre-pandemic) to get to know my clients either portrait clients or models looking to expand their portfolio or online presence to visualize their fantasy, their dream or just something they've always wanted to try.
How I made this shot: Today's featured portrait of Pam Simpson was made for a series of different styles of intimate portraits that were collected into a small album that was to be a gift for her significant other. This was one of the few that was shot in my 11×15-foot home studio. Lighting for the portrait was made using only a Plume Ltd Wafer HexOval 100 softbox that was attached with a Balcar-compatible speed ring to a Paul C Buff DigiBee 800 monolight that was placed at camera right and fairly close to Pam. She was photographed against black Savage Infinity vinyl backdrop hung from my still falling apart JTL background stand. It was made using an Olympus E-M10 Mark I—proving that an entry level camera can be used for all kinds of portraits—and their  M. Zuiko 45mm f/1.8 lens with an exposure of 1/125 sec at f/4.5 and ISO 200.
---
It's Freelance Writers Appreciation Week and you can show your appreciation by buying me a cup of Earl Grey tea ($2.50) by clicking here or you can just click on Contact and offer a simple "thank you."
If you would like my take on glamour photography, please pick up a copy of my book Joe Farace's Glamour Photography. It's full of tips, tools and techniques and includes information on all of the gear that was used to make each image as well as the exposure data for each photograph. New books are available from Amazon for $21.61 with used copies starting at $8.90, as I write this. The Kindle version is $19.99 for those preferring a digital format.