Today's Post by Joe Farace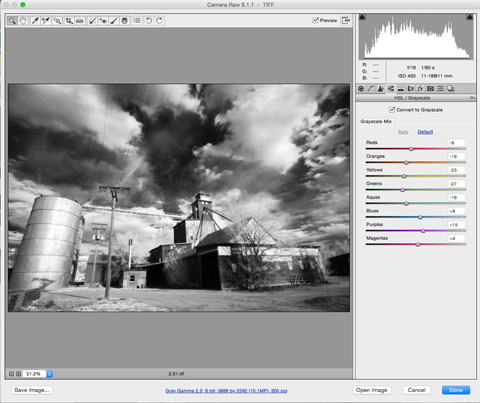 If you read this blog on a regular basis you know I'm a big believer that great photo ops are available in your own backyard.
I made the below infrared photograph just two miles from my previous home late one Sunday. It was converted into black and white using the Adobe Camera RAW software that's built into Photoshop and the inexpensive Photoshop Elements.
How I made this shot: Camera was a Canon EOS Digital Rebel Xti converted for infrared capture by LifePixel. Lens was Tamron's discontinued AF 11-18mm f/4.5-5.6 Di-II (at 11mm) with an exposure of 1/80 sec at f/16 and ISO 400. While officially discontinued the 11-18mm lens is available via these Amazon sellers at attractive prices. The lens that replaced it is Tamron's SP AF 10-24mm f/3.5-4.5 Di II HLD.
Digital cameras let you capture images in different formats. The most common format is JPEG (Joint Photographic Experts Group) and some cameras also let you to capture images in the TIFF (Tagged Image File) format.Most cameras will also let you capture images in some format of RAW* file, although each camera manufacturer has their own flavor.
JPEG is the name a standard for image compression and it's the most common file type used by digital cameras. Compression enables devices to capture and store the same amount of data using fewer bits by discarding colors that may not be visible to your eye and how well it accomplishes this process ultimately determines image quality. The highest image quality option is no compression that's available with TIFF and RAW formats. All of these formats produce excellent results but when faced with difficult lighting situations, the unprocessed data of a RAW file can be helpful but the small size of the JPEG file is faster and easier to deal with in-camera and with your computer. TIFF files combine some of the advantages of both JPEG and RAW formats but the files are usually larger.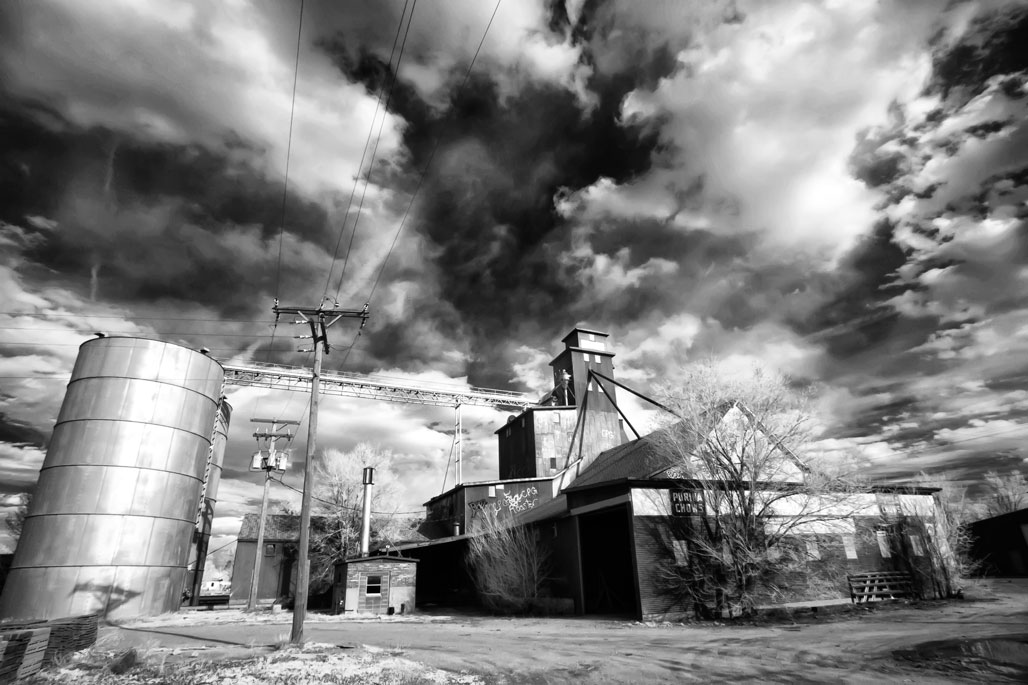 The current version of Adobe Camera RAW contains intuitive monochrome conversion options as part of its gateway for converting different RAW formats but it also works with JPEG and TIFF files. When working with RAW files, what many consider to be "digital negatives," you can achieve the results you want with greater control and flexibility while maintaining the structural integrity of the original file.
You should decide which image file format works best for your own personal shooting style and workflow. If you want to shoot quickly and spend less time in front of the computer, JPEG is the best choice. If you loved working in the traditional darkroom, you might consider working with RAW because the process is as close as you're gonna find to a digital continuation of working in a traditional, wet darkroom. I especially like working with RAW files from older cameras or with Micro Four-thirds mirrorless cameras in order to squeeze the maximum quality from the 18×13.5 mm sensor.
But like everything else on this blog, there is "no my way or the highway." You can shoot any or all of these file formats depending on the situation, camera used and subject matter. As always, you;re in charge.
*A lack of compression is also a feature of Adobe's DNG (Digital Negative) file format that some cameras shoot as their native RAW format. You can download a free copy of Adobe DNG Converter 10.4 to convert different camera's RAW formats into DNG, something I did with some of the RAW files from the Nikon D3500 I'm currently testing for Shutterbug. Look for a review of this camera soon and I will update this post with a link when it runs.
---
I've found that Life Pixel does a great job with IR conversions and they have done most of the conversions for my Canon DSLRs and all of my Panasonic Lumix G-series cameras. This is not a paid or sponsored endorsement, just my experience.
My book, The Complete Guide to Digital Infrared Photography is available from Amazon with used copies selling from $5.00 as I write this. Creative Digital Monochrome Effects has a chapter on IR photography and is available from Amazon with used copies starting at $4.00.