Today's Post by Joe Farace
Before I moved to Daisy Hill and set up my current home studio much of my portrait and glamour photography was done on location. But living in Colorado sometimes the models, and the photographer too, just aren't in the mood for stomping around in the cold weather and snow.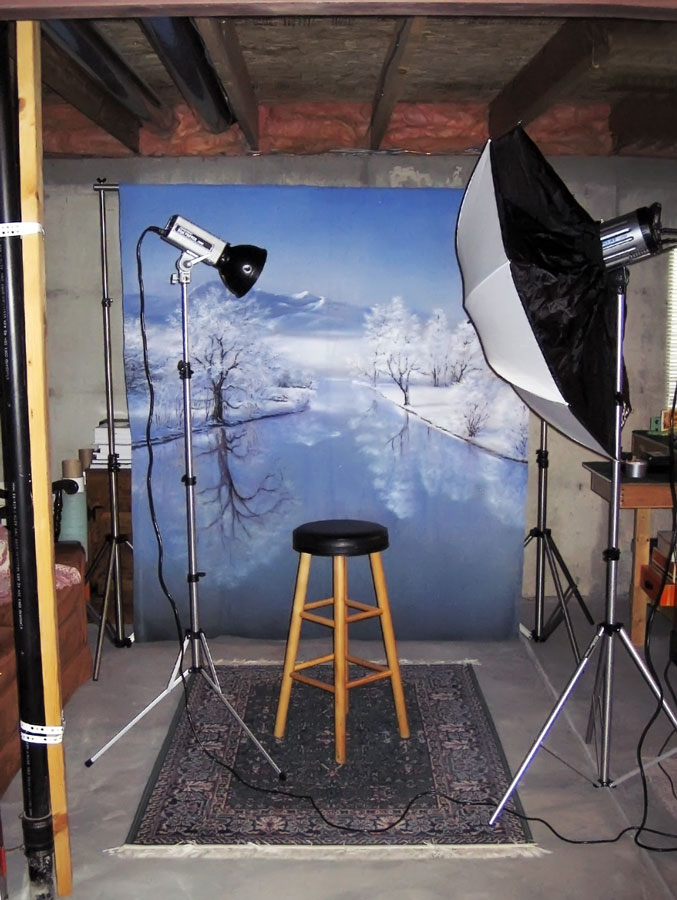 That's when a home studio comes in handy and some photographers prefer the kind of environment that's only possible when they have complete control over the lighting. Instead of the hassle and cost of renting a studio, why not create one using a room that you already have.
In creating a studio from existing space you have to be inventive and flexible. The main thing that you need for a home studio is space. You don't need much space but more is always better than less. You can locate your studio in a basement, garage, spare bedroom or even your living room as Mary and I did when we were getting started. We would set up the lighting equipment and background and then had to knock it down and pack it away afterwards. That's not the most convenient way to shoot portraits but it worked. Shooting in the garage typically offers higher ceilings providing more flexibility in lighting set-ups but may not be an option, especially if it's unheated. In more temperate climates, this might be an ideal solution, if your cars don't mind being outside.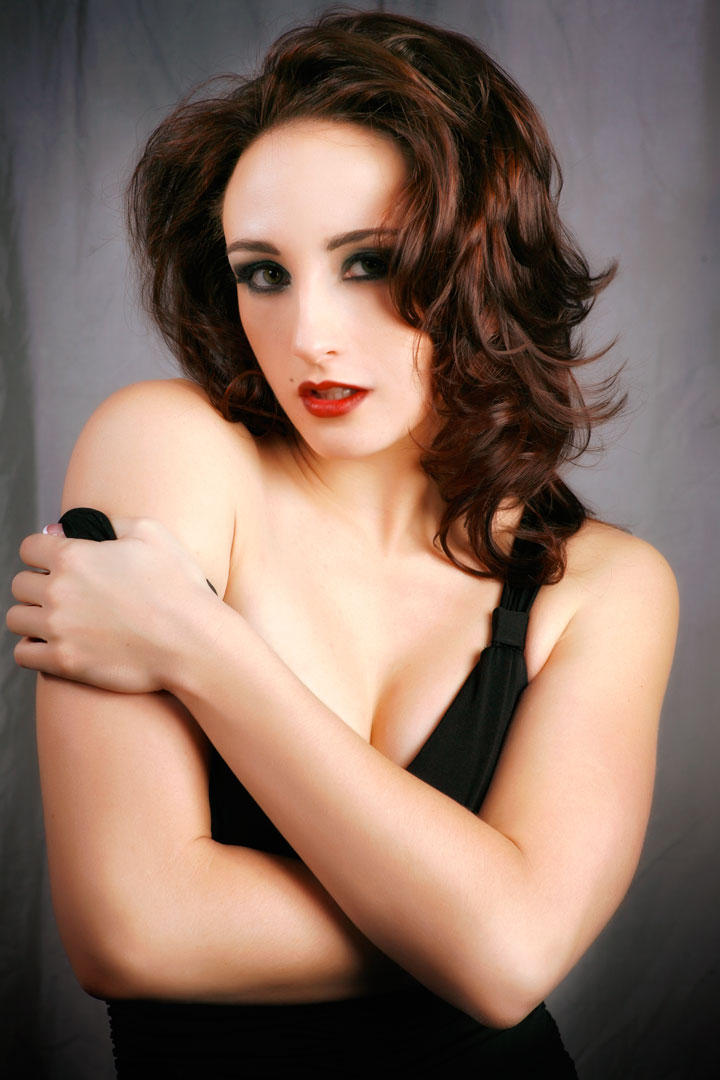 The real secret, if there is any, of making portraits in limited spaces is having the right equipment and that that gear doesn't have to be expensive. In the portraits made in the 8×9 foot space in the unfinished basement (above right) of my former home, lighting was provided by two inexpensive Adorama monolights. You could accomplish the same kind of lighting with speedlights. The only amenity this basement studio offered was a stool and a 4×5 foot rug from Target. It's not a real posing stool but one I sat on to run my model trains. This set-up wasn't fancy but it, I think anyway, worked as you can see in the image at left.
Having a home studio set up the way I do means that the lighting gear can remain set up, saving time when I have to get ready for my next shoot. There's no time spent setting up, because it's still there from the last time.
How I made this shot: This portrait of Kelsie was made in that original home studio. It was shot with a Canon EOS 50D and my favorite EF 85mm f/1.8 lens. Exposure was 1/60 sec at f/9 and ISO 100. Background was a cheapo muslin background that I got from Adorama hanging on my not falling apart (yet) JTL background stands.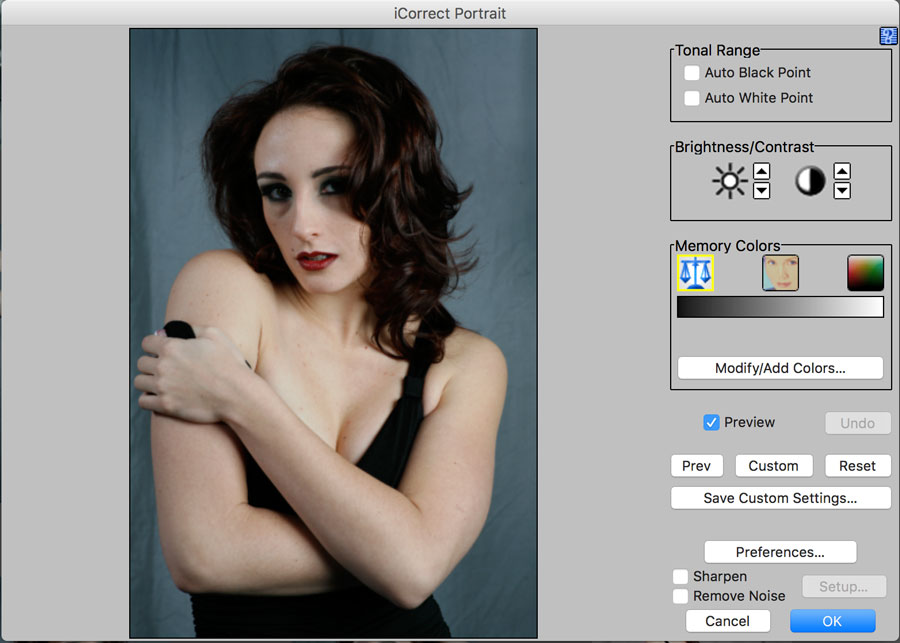 Lighting was provided by a single, inexpensive monolight with a 45-inch Westcott Halo Mono Softbox attached and placed at camera right with a reflector located at camera left as fill. The image was captured as a JPEG file that was too cool. I used PictoColor's iCorrect Portrait to correct skin tone and to make the background more neutral. These days I would have used my preferred RAW+JPEG approach. Shooting RAW+JPEG gives me options; shooting a JPEG limits these options. You live and you learn.
Another related item is the color of the space. In the 11×15-foot basement studio in my current home, the walls were originally model home white and while that color can work in your favor it also introduces lots of reflective surfaces that you may or may not be able to control. After my basement flooded and repairs were made I took the opportunity to paint the walls a more-or-less 18% grey. If repainting is not an option, you might consider using a Westcott's Scrim Jim Cine covered in Black Block fabric and strategically place it to avoid unwanted reflections that could be caused by your lighting bouncing off light colored walls.
The featured image was from the one and only shoot that I did with Kelsie but while it was a TF shoot, she did get a magazine article and a book cover out of the deal. If you have a friend, or maybe yourself, who would like to model for me or wants to be my new muse, please contact me through the Contact page or send an e-mail at joefarace at gmail dot com. We can schedule a test shoot or interview whichever is more convenient.
To be continued…
---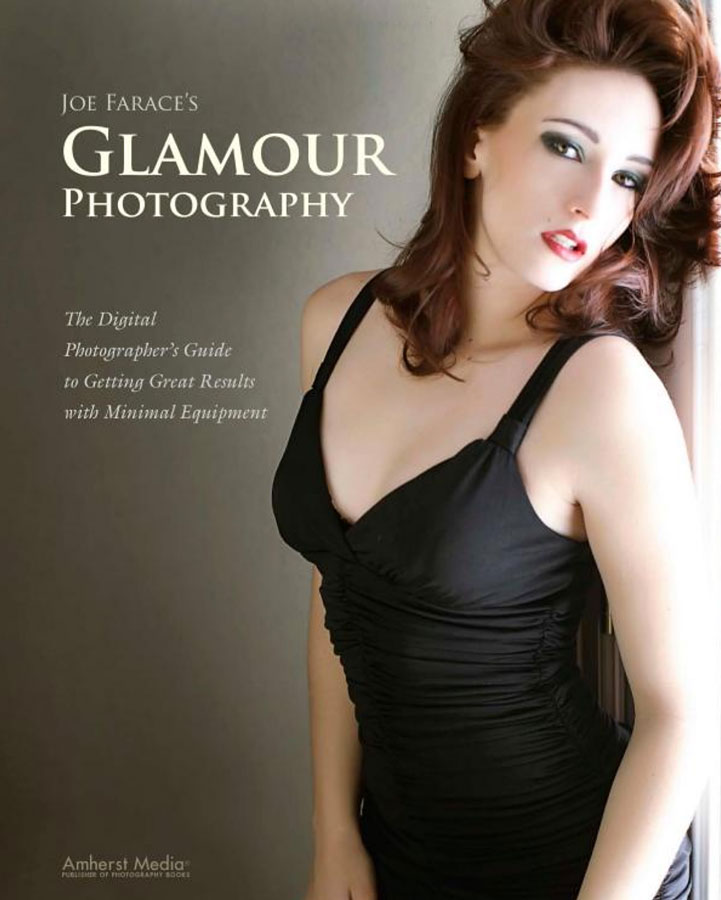 Kelsie appears on the cover and in some of the pages of my book Joe Farace's Glamour Photography. The book contains tips, tools and techniques for glamour and boudoir photography and includes information on the cameras and lenses that I used as well as complete exposure data for every image. New copies are available from Amazon for $26.92 with used copies starting at $8.91, as I write this. The Kindle version is $19.99 for those readers preferring a digital format.