Today's Post by Joe Farace
The Camera Looks Both Ways."—Rick Sammon
While I ponder the existential nature of my friend Rick's quote, I also wonder what the below portrait says about me other than just making a nicest possible portrait, which is what I typically think about during these kinds of photo session. Maybe I'm wrong.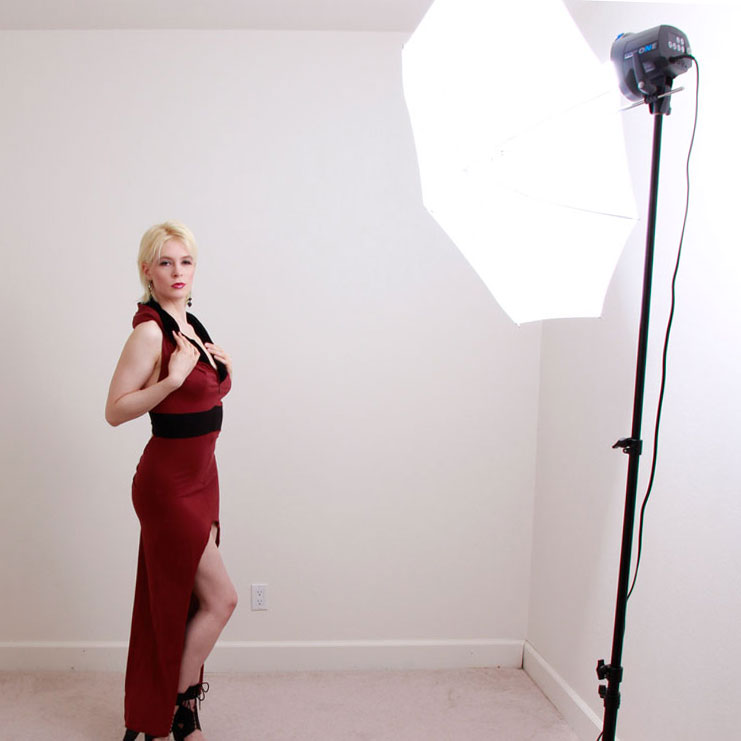 Umbrellas are the simplest and most inexpensive light modifier available, which makes them the most popular. Photographic umbrellas look and act just like a rain umbrella, except they can be reflective with light is bounced into them, creating a big, soft light source. You can also shoot through translucent umbrellas as I did here to create a direct (and brighter) light. Te good news is that umbrellas are passive devices and don't care what kind of light you bounce into or shoot through them. Light can come from a monolight, flash head, speedlight or a even a continuous light source like LED.
How I made this shot: I photographed the wonderful and wonderfully beautiful Pamela Simpson using a single Elinchrom D-Lite RX One monolight with a medium-sized umbrella mounted on it. Setup is shown at right. Although it does not appear in the setup shot about, the background used for the final portrait (below) is a Savage Monsoon collapsible backdrop.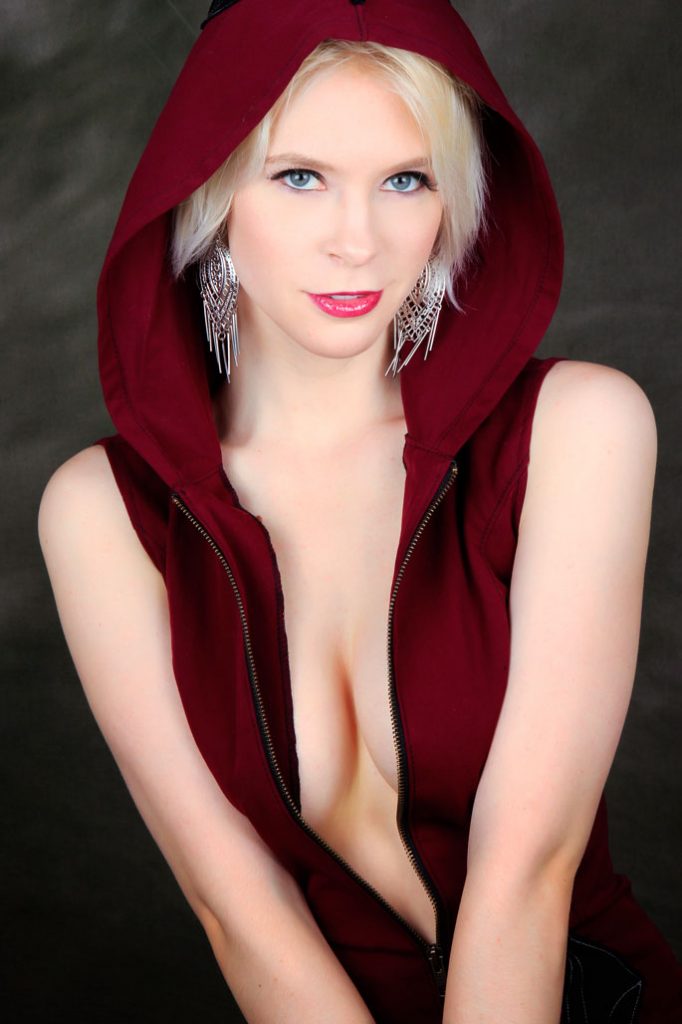 The camera used for this portrait was a Canon EOS 60D with EF-S15-85mm f/3.5-5.6 IS USM lens at 50mm. Exposure was 1/125 sec at f/14 and ISO 200, which is impressive from a 100 Watt-second monolight.
Umbrellas come in sizes from small to large and some are even collapsible allowing you to create a compact lighting kit for the road. The main reason to select anything smaller than the biggest one you can find is shooting space. I like to place umbrellas high but larger umbrellas can bump into ceilings, so something smaller may be needed.
Tip: When working in a tight space, I try to place umbrellas high to keep shadows from falling on the background. But you gotta  be careful that the umbrellas is not so high that the subject doesn't light in their eyes. This unusually isn't a problem because umbrellas produce such a broad source of light but is something you should be aware of.
Finally, here's an important rule that you should keep in mind about lighting: The closer a light source is to a subject, the softer it is. The converse is also true because the smaller and further away from the subject the light is, the harder it becomes. In addition, the larger a light source is, the softer it will be; smaller sources will be less soft. Another rule is that
size matters
is important because a bigger umbrella will produce broader, softer light for your photographs.
---
If you enjoyed today's blog post and would like to buy Joe a cup of Earl Grey tea ($2.50), click here. And if you do, thanks so much.

Joe Farace's Glamour Photography is full of tips, tools and techniques for glamour and boudoir photography with new copies available from Amazon for $27.43, as I write this. Used copies start at an amazing $2.49 and the Kindle version is $11.99 for those who prefer a digital format.