Today's Post by Joe Farace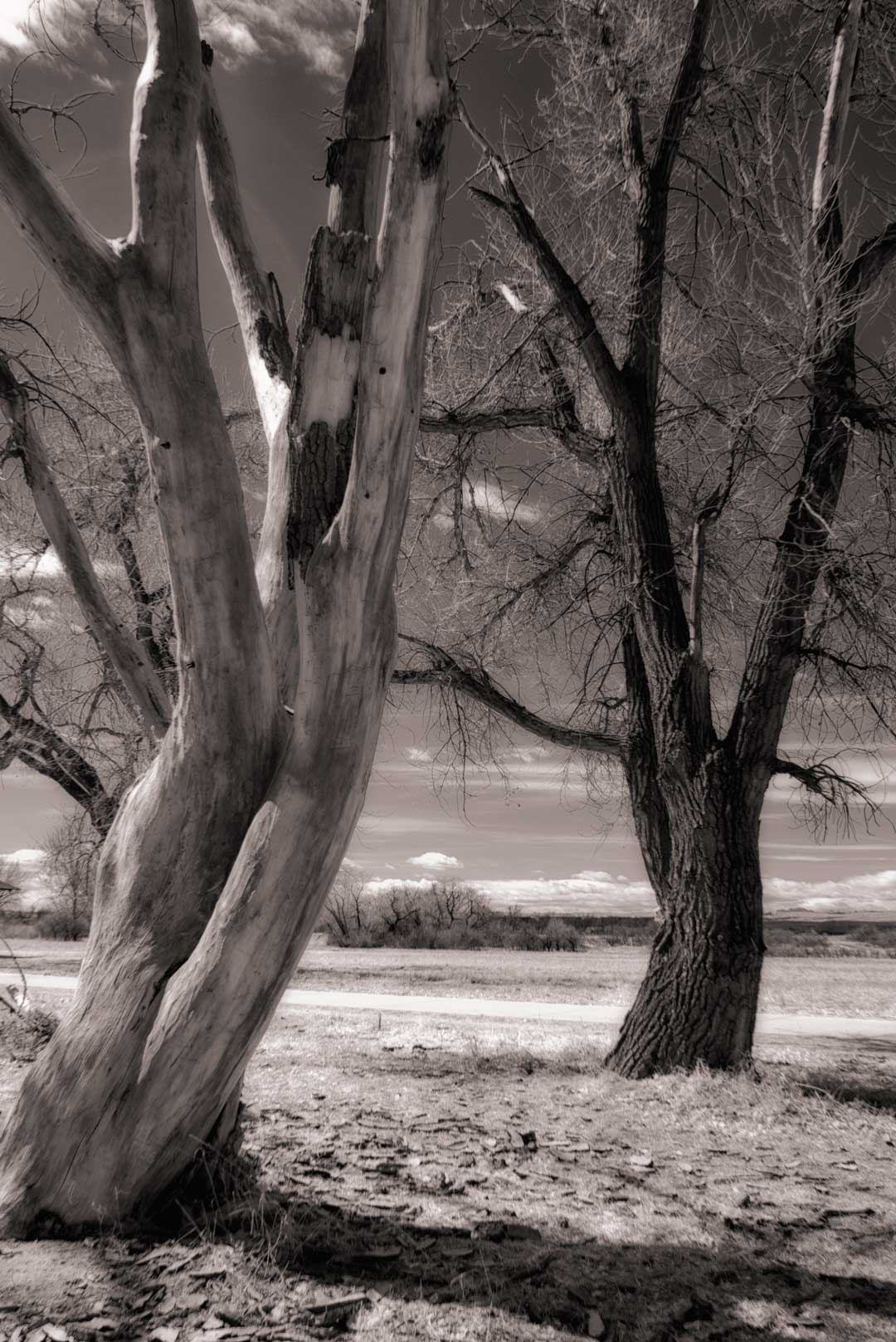 My feeling anyways is that a photograph is usually all about the lighting but infrared photography is all about capturing images using invisible light, which is why comparisons to traditional photography are difficult.
If you want to create a dramatic image, few things beat a beautiful sunrise that's photographed in vibrant colors. The same scene when photographed in infrared may be disappointing unless there is some great IR reflective subject matter—we're talking about big trees here-—to add some interest. That's because the Wood Effect (bright to white reproduction of the chlorophyll layer of deciduous plants in black-and-white IR images) appears strongest at low sun levels. Interestingly, or maybe not, the effect is named after infrared photography pioneer Robert W. Wood (1868-1955) and not after the material wood, which does not strongly reflect infrared. Tip: Evergreens, like the Ponderosa Pines up here on Daisy Hill, don't reflect as much infrared but depending on the invisible light will reflect some IR light. But don't confine yourself to landscapes.
Here's one of Farace's Laws about capturing infrared photographs: If the lighting looks great for standard photographs, such as portraits in the shade, or sunrise and sunset, it's probably not going to work for infrared. But don't take my word for it; you need to experiment because you never know for sure what the results will be when working in the infrared idiom until you try. For example, shooting an approaching storm often makes a great standard photograph but I have a feeling that it would also make a dramatic digital infrared image as well. Any trees in the scene should retain some IR reflectance and the storm clouds should add impact, right? It's really anybody's guess until you try, no matter what Yoda says.
How I made this shot: I made the featured image at McCabe Meadows with the Lumix GX-1 that I purchased used from Roberts Camera and had converted by Life Pixel using their Hyper Color filter. Lens was the Olympus M.17mm f/2.8. The photograph was captured as a JPEG and a RAW file. You can see the RAW file in the Adobe Camera RAW screenshot at right. The exposure was 1/2500 sec at f/5 at ISO 160. After a minor amount of tweaking in Photoshop's  Levels I applied an action from the set that were part of a tutorial package offered by Life Pixel for purchasers of their conversions, specifically the "Action1," which turned the color IR image into a moody monochrome one. No leaves; no Wood Effect.
There are no 'official' subjects for digital IR photography. Sure, summer landscapes with leafy deciduous trees, lots of grass, and puffy clouds often make for a great infrared picture. Yet, some of the artists profiled in my book, The Complete Guide to Digital Infrared Photography, like to photograph people in IR and I do it myself very now and then. You can see some of my infrared portraits here and here and while I will sometime shoot cars in infrared, most of my IR photography has been in the landscape idiom, although most of the time it relates to landscapes located in my own neighborhood.
---
I've found that Life Pixel does a great job with IR conversions and they have done most of my Canon DSLRs and all of my Panasonic Lumix G-series mirrorless cameras. This is not a paid or sponsored endorsement, just my experience.
My book, The Complete Guide to Digital Infrared Photography is  available from Amazon for $8.66 but used copies starting around three bucks as I write this. Creative Digital Monochrome Effects has a chapter on IR photography and is available from Amazon for $23.90 with used copies start around two bucks, less than your next cup of joe at Starbucks.